'Nothing is impossible for a Chilean' - Miners star in rousing World Cup advert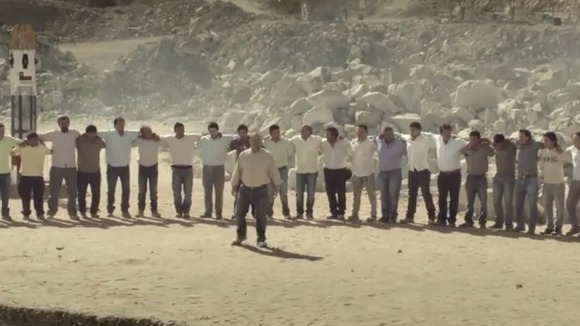 The Chilean miners who survived being trapped underground for 69 days back in 2010 are starring in a rousing advert for their football team, as they prepare for the "group of death" in the World Cup.
The ad sees the men returning to the mine, where group spokesman Mario Sepulveda delivers a rousing speech as his former colleagues stand behind, shoulder to shoulder.
The men then collect sand from the mine that nearly killed them, to send in jars to the team to be poured wherever they play.
Their message for the team: "Noting is impossible for a Chilean".
The video is hoping to help the team's chances, which so far are not looking great, as they face off defending champions Spain and 2010 finalists Netherlands in their first round of the tournament.
Sepulveda said he hopes they will be an inspiration to the team to battle through their group "until the end". He said:
My message to our Chile team is that we're going to win. They have the talent and a whole country behind them and they must battle until the end.

There are harder things in life and you can conquer them. Chile will not only pass to the second round, but it will surprise everyone.