Mystery man donates £3k for dying mother to smile again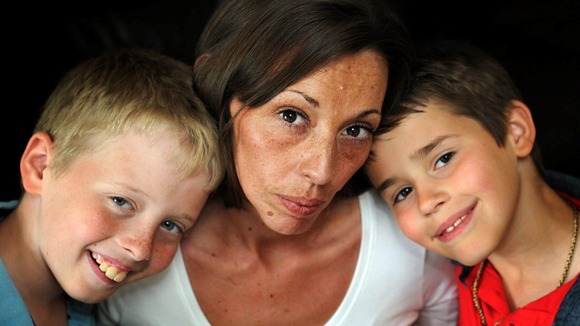 An anonymous businessman has offered £3,000 to give a terminally ill mother her dying wish.
Kelly Murray suffers from a rare condition that caused half her teeth to fall out, distorted her face and left her unable to laugh.
But the 33-year-old's last wish is to leave her two sons with a smiling family photo.
I used to be so confident, but now I never want to pose for pictures with my sons.
– Kelly Murray

When Mrs Murray was told by dentists that fitting dentures would cost £3,000, friends began fundraising to help.

But when the appeal gained international attention an anonymous businessman donated the entire amount - and then dentist Paul Cullen offered to fit the veneers for free.

Mrs Murray told the Matlock Mercury the response has been "overwhelming".
I couldn't believe it when I heard this man was going to donate £3000. I just want to thank him, even though I don't know his name.

If the dentist will be able to fit my veneers, the money will help give my sons a holiday to remember.
– Kelly Murray

Mrs Murray has battled langerhan cell histiocytosis for 12 years – a condition that affects just one in a million adults and has caused the bones in her mouth to disintegrate.

It is so rare that she is the only person with the illness ever carry her own children.

Mrs Murray admitted she finds it hard to accept that she won't see her sons grow up, telling the Metro: "I want to see them grow into young men."
I don't want to miss their first day of secondary school but I have to accept it won't happen. At least I know I will be able to have some photographs taken of me and my boys with me smiling and looking happy.
– Kelly Murray