Plane narrowly avoids landing on German sunbather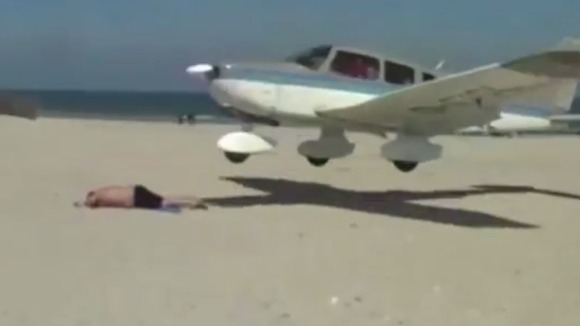 A sunbather in northern Germany appeared to have a close escape after a small plane almost landed on top of him.
Video footage obtained by German tabloid Bild shows the plane landing on a beach in the tourist island of Heglioland.
The pilot, 52-year-old Juergan Drucker, said he misjudged his approach, but had not seen the man as he was lying down.
Speaking to Bild, he said he was fearful the disastrous landing could lose him his license.
It was me that was flying and I am really sorry. I have to say, as the pictures show, that it wasn't one of my greatest achievements in the cockpit.

In my defence I can say that I didn't see him because he was lying down and I'm just very grateful it worked out well and I didn't land on him.

I fear I will be in for a fine from the Federal Aviation Office but I hope I will be able to keep my licence.