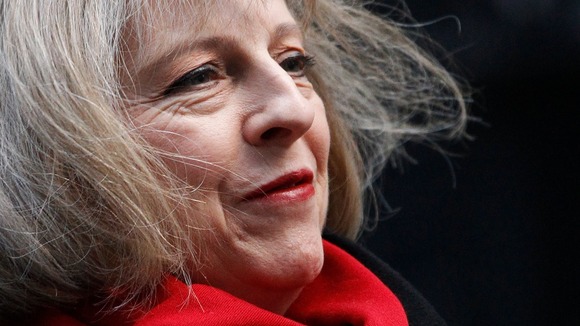 By Tom Bradby: ITV News Political Editor
At the core of this story on extremism are two issues: One is about the battle against extremism itself, in which the only significant new development today is the Prime Minister's suggestion that schools submit to spot inspections, and the other is about politics.
The first is more important for most of us. But it is the second that is creating more heat at Westminster today.
It is basically comes down to two questions;
Did the Home Secretary know of her special adviser's decision to leak a letter last week that effectively attacked Michael Gove?
Did she in fact write that letter specifically to be leaked?
Timeline: May and Gove's row over Birmingham schools
The Shadow Home Secretary, Yvette Cooper, asked both questions today. She didn't get much of an answer to either.
I think they are both very dangerous for Theresa May for the simple reason that she has accepted her special adviser's resignation. This obviously begs the question as to whether it would have been more honourable of her to have resigned herself.
More: Labour accuses May of breaking the ministerial code
Here is the full text of the letter Theresa May's office leaked. I have added my commentary in places, but I must say that it sounds dangerously like a letter written to be given to the media to me. It is addressed to Michael Gove.
I am writing in response to your letter to the Prime Minister seeking approval to launch a public consultation on a voluntary Code of Practice for supplementary schools.
But as far we understand it the letter she was 'responding' to was written last November (though the Department of Education will neither confirm or deny this today).
Bear in mind that this letter was written to Michael Gove on the afternoon of Tuesday 3rd June and published on the Home Office website only eight hours later.
The publication of a Code of Practice for supplementary schools was an agreed Extremism Task Force commitment and we agreed at the conclusion of the ETF's work that the Code should be voluntary. However, since the publication of the ETF report in December there have been serious allegations of extremism in some Birmingham schools and accusations about the inability of local and central government to tackle the problem effectively. In this context, I am not convinced that a voluntary code is sufficient and I believe it would be sensible to include the option of developing a mandatory code in your consultation document.

I understand and share your desire to include a clear and unambiguous definition of extremism and of Islamist extremism, and indeed I was pleased that we were able to agree the latter in the ETF report. It is important that having agreed these definitions we now stick to them in the Code of Practice to avoid any confusion.

We know that extremists try to impose specific forms of dress on people and this includes the mandatory veiling of women. The consultation document should be clear that nobody should be forced to dress in a particular way. We do, however, need to recognise that many moderate Muslims, as well as people of other religions, believe that covering one's hair is a religious requirement and some parents will therefore want their children to do so.

The text on dress requirements should therefore not be part of the extremism definition but, consistent with the Government's already-stated position on the burqa, we should state clearly that nobody should be forced to dress in a particular way.
Okay, fair enough, this is clearly on the issue itself, but surely Theresa May has already said these things to Michael Gove's face in Extremism Task Force meetings?
The allegations relating to schools in Birmingham raise serious questions about the quality of school governance and oversight arrangements in the maintained sector, not just the supplementary schools that would be signatories to this Code of Practice.

How did it come to pass, for example, that one of the governors at Park View was the chairman of the education committee of the Muslim Council of Britain? Is it true that Birmingham City Council was warned about these allegations in 2008? Is it true that the Department for Education was warned in 2010? If so, why did nobody act?

I am aware that several investigations are still ongoing and those investigations are yet to conclude. But it is clear to me that we will need to take clear action to improve the quality of staffing and governance if we are to prevent extremism in schools.
This does read like a paragraph written for the media by someone who understands exactly how the media works.
Its inclusion here, particularly with all the questions, seems really rather random unless the purpose was to alert the media to the fact that they were the questions the Home Secretary wanted answered.
I am copying this letter to other members of the Extremism Taskforce.

The Rt Hon Theresa May MP.
My verdict; it looks, smells and reads like a letter written to be leaked.
Which leaves the Home Secretary with some very tricky questions to answer.