'All by himself': Man trapped overnight in airport films music video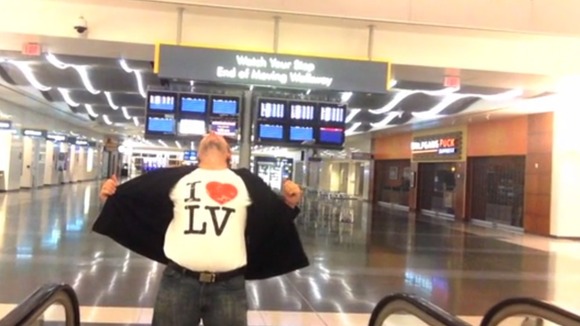 A man trapped overnight at a Las Vegas airport came up with an unusual way to pass the time - by filming a music video for Celine Dion's 1996 hit 'All By Myself'.
Richard Dunn decided against visiting the tourist hotspot for the evening and instead made this video on his iPhone.
Writing on his Vimeo account, Dunn explained how he ingeniously used bags, escalators and moving walkways at McCarran Airport to self-shoot the five minute clip.
I had a person behind a ticket counter give me a roll of luggage tape before she left.

I then used a wheel chair that had a tall pole on the back of it and taped my iPhone to that.

Then I would put it on the moving walkway for a dolly shot. I also used the extended handle on my computer bag and taped the iPhone to my handle. I would tuck different stuff under the bag to get the right angle.

For the escalator shot I had to sprint up the steps after I got my shot so the computer bag didn't hit the top and fall back down. Quite fun!
– Richard Dunn

Dunn was praised for his efforts on Vimeo, with users calling the clip "an incredible piece of cinematography" and "one of the greatest videos ever".