It's an offal lot of meat: 'World's largest haggis' unveiled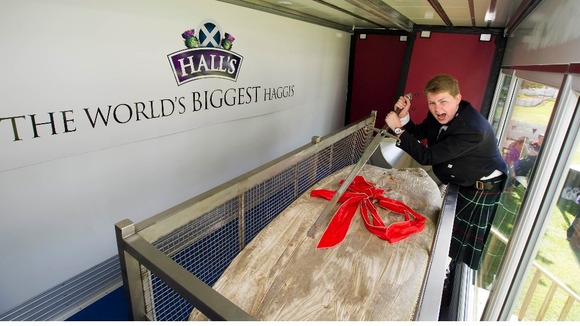 The "world's largest haggis" has been unveiled at the Royal Highland Show, weighing in at about a ton (1,010kg).
Hundreds of pounds of pork offal, oatmeal and onions went into the colossal creation, which is more than a metre wide and had to be transported to the Ingliston Showground near Edinburgh on the back of a truck.
Staff at Hall's in North Berwick worked to double the previous record, set in 2009, and take their haggis into the Guinness Book of World Records.
It will be sold off in individual portions at the show, with proceeds donated to Macmillan Cancer Care and various children's charities.
Wayne Godfrey, chief executive of Browns Food Group, which owns Hall's, said:
2014 is the official year of the haggis and so we thought this was the perfect occasion to reclaim the Guinness World Record title that was first held by Hall's over 30 years ago.

We knew we were aiming for a very ambitious size and weight and so everyone at Hall's is thrilled we pulled it off, reclaiming the title - and beating the previous record by such a significant amount.