A Scotland football fan spotted on TV celebrating England's World Cup demise alongside Uruguay fans told ITV he was "worried" his antics would "go viral".
Mark McConville was pictured among jubilant South Americans clad in a Scotland away shirt and a ginger wig, seemingly taking great joy in England's 2-1 loss in Sao Paulo last night.
He told ITV News:
I did see myself on the big screen and I was worried in case it went viral, and it has done. I woke up this morning with all the news from around the world. And that was exciting - I'm glad to play my part in this World Cup.
– Mark McConville

The 41-year-old, from Glasgow, appeared during ITV's coverage of the game after Luis Suarez scored his second goal.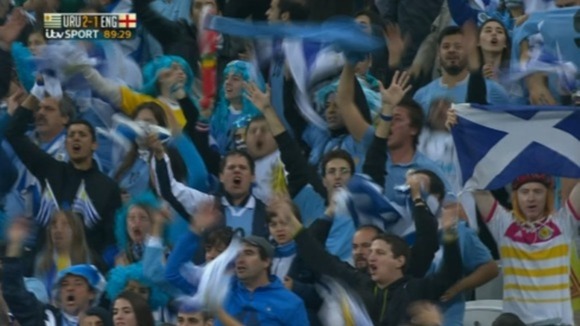 The Tartan Army follower revealed that the Liverpool striker was his hero after foiling Scotland's "great rivals" England.
He said:
I worked in England for 10 years and they're my great rivals. I'm a Scotland supporter and I've attended the last five England v Scotland matches and I'm proud of that.

So to be there in the stadium with my Scotland kit on, and to see my hero Suarez score two goals against them, it was amazing. I was happy to be there with Uruguay.
– Mark McConville