Sugar in our diet has been identified as one of the major contributing factors to the UK's growing obesity epidemic. New research by ITV News has found that many food products have added sugars that do not have to be disclosed on the label.
The Guideline Daily Amount (GDA) for the average adult is 90g per day, for all sugars.
Alpen Trail Bars - Fruit & Nut
Alpen Trail Bars are advertised as a morning snack, "loaded with a delicious combination of ingredients. Creamy rolled oats, crunchy hazelnuts & almonds, juicy raisins & sultanas". The bars are low in fat.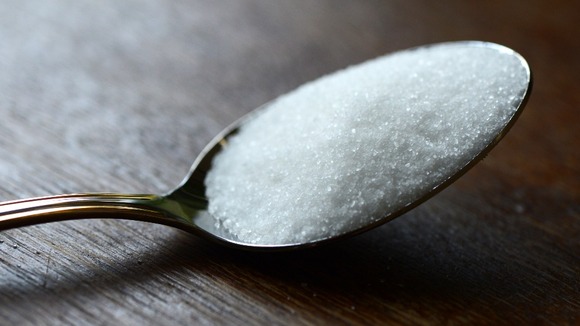 The bars are packed with a number of sugars from a number of sources: naturally occurring from the fruit, as well as added by the manufacturers. The total sugar content per bar amounts to more than four teaspoons. Each 48g bar contains:
17g sugar, or over 4 teaspoons of sugar per bar
Of this 6.4g of sugar have been added by Weetabix
In total, sugar makes up more than a third of the bar: 35%
In a statement to ITV News, Weetabix said it was committed to providing clear nutritional information on its packaging.
Weetabix supports informed consumer choice, and we are committed to providing clear nutritional information on our packs, as well as providing a range of nutritious cereals and snacks to suit all occasions and all individuals.

Packed with nutritious fruit, our fruit and nut cereal bar from the Alpen Trail Bar range is a source of fibre and is low in saturated fat with sugar added to bind the ingredients together.
– Weetabix

More: Campaign group demands 'sugar tax' to tackle obesity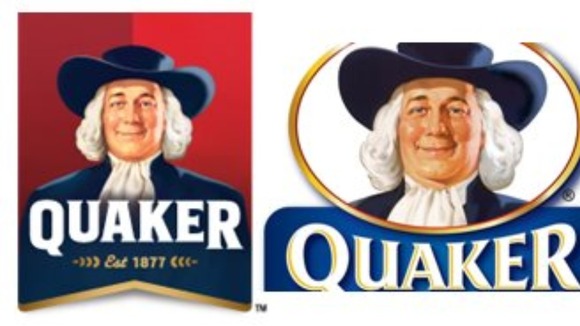 Quaker Oat So Simple Sultana Raisin Cranberry
Quaker's porridge oats are described as "bursting with glucose" and health benefits of the product are highlighted as "high in fibre" and containing "beta glucan which helps lower cholesterol." Each sachet, with milk, contains close to 20g of sugar. For every 38.5g sachet, there are:
18.3g of sugar, or at least 4.5 teaspoons of sugar per bowl
In total, sugar makes up almost half of each packet: 47.5%
The manufacturer, Pepsico, have so far refused to give ITV News a breakdown of how much sugar is added. In a statement, the company said the amount of nutritional information they provide is in line with EU regulations.
Quaker Oat So Simple Apple, Sultana, Raisin & Cranberry contains a mixture of sugars - those which are naturally occurring in the dried fruits and those that are added - and the total amount per portion and the percentage contribution to the GDA/Reference Intake is clearly labelled on the front of pack.

The format for this nutrition declaration is firmly set by EU Regulation on the provision of food information to consumers, so we as a manufacturer are not permitted to label "added sugars" separately (or in addition to) those naturally present in the Nutrition Table or as part of the GDA/RI icons on front of pack.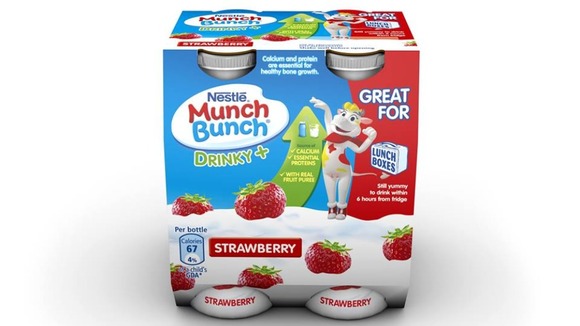 Nestle Munch Bunch Drinky Strawberry
Nestle describe their product as a "delicious drink with a fruity flavour that kids will love" and stresses the calcium and "essential proteins for growing bones" it provides. It also has real fruit puree - which contains naturally occurring sugar. Each 90g yogurt drink contains:
11g of sugar, or at least 2.7 teaspoons of sugar per drink
Of this, 8.4g of sugar have been added by the manufacturers
In total, the 12% of the drink is sugar
Nestle said the sugar is added to "balance out the natural acidity" of the yogurt. In a statement, the company said:
Our yogurts are made with milk and fruit puree which contains naturally occurring sugars in the form of lactose (milk) and fructose( fruit) which are significant contributors of the total sugar content of the product. [...]

The sugar is added to balance the natural acidity of the yogurt and fruit and deliver a product that satisfies consumers. Like all foods and drinks, sugar-containing foods must be eaten sensibly in the context of a balanced and varied diet.
– Nestle

More: Fried food, sugar and pastry cut from school dinners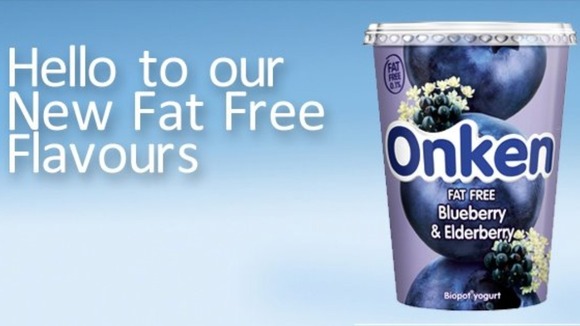 Onken Fat Free Yoghurt Blueberry & Elderberry 450g
Onken's fat free blueberry and elderberry yogurt contains added sugar, and corn starch, as well as the naturally occurring sugars (fructose) in the fruit. Per 150g serving, each yogurt contains:
121 kcal
19.9g sugar, or at least 4.9 teaspoons
Of this, 6.45g comes from lactose milk from the milk used
The remaining comes from a combination of added sugar and the natural sugars present in fruit
An Onken spokesperson told ITV News they were working to lower their sugar content over time, to enable their customers to adjust:
We are already working on lowering the sugar content of our Fruit yogurts over time, choosing a gradual approach as consumers palates will need time to adjust to the changes in sugar levels across the board.
Baxters Vegetarian Mediterranean Tomato Tinned Soup (400g)
One of the more surprising products evaluated by ITV News that contains added sugar is a soup marketed towards vegetarians. Per 200g (or half a can), the soup contains:
63kcal
4.7g sugar, or over a teaspoon
If you eat a whole tin, you're eating 2 and a half teaspoons of sugar.
In a statement to ITV News, Baxters said:
Baxters Vegetarian Mediterranean Tomato Soup contains 0.24% added sugar (granulated) in the recipe and there is also a small amount of added sugar in the vegetable bouillon we use.

We declare a sugar content of 3g per 100g (3%) in the nutrition table. As our nutrition is calculated, I have attached the contributions list which shows the contribution of sugar per 100g in the product from each of the ingredients.

This shows that added sugar contributes 0.30g per 100g with the rest of the sugar from tomatoes, tomato puree, peppers, onions potatoes, carrots and rice.