Python fans out in force for the holy grail of comedy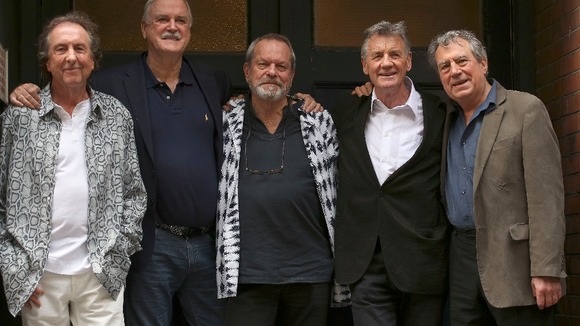 Monty Python fans descended in their thousands on the O2 arena in London for the first of a much-anticipated run of reunion shows from the legendary comedy group.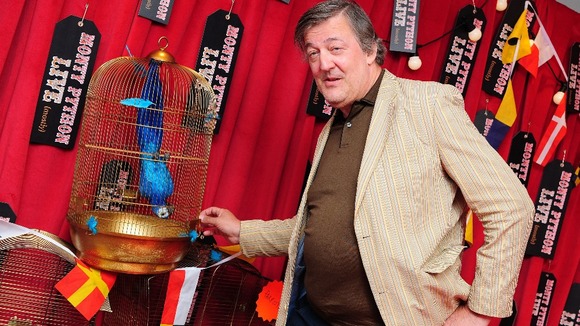 Among the crowd were quite a few famous faces, including Stephen Fry, scientist Brian Cox and Good Morning Britain presenter Kate Garraway, who tweeted her approval of the performance.
Loving & laughing at #montypythonlive - they look like they are having so much fun & so is the audience!
The cult comedy troupe members John Cleese, Michael Palin, Eric Idle, Terry Gilliam and Terry Jones, now aged in their 70s, have said their London shows this month will probably mark their last performances together.
Last night they delighted fans with classic comedy set pieces including the fish slapping sketch and the Lumberjack song at the show, which finished with a singalong version of Always Look On The Bright Side of Life.
Thousands of fans also cheered on a spoof 'Spam Lake' ballet while other sketches included Idle and Palin as lingerie-wearing judges and Idle and Jones performing the "nudge, nudge, wink, wink" routine which inspired a song and dance number.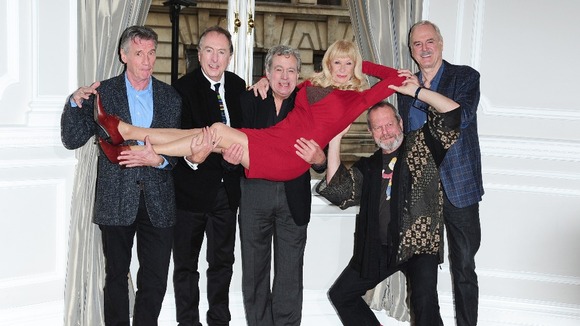 Several celebrity fans made cameos, including Stephen Fry, who appeared in a sketch about a game show host blackmailing misbehaving celebrities.
Professor Brian Cox and Stephen Hawking also appeared on film after a performance of The Galaxy Song.
Oh my days. Just seen @montypython @theo2 - in fact I made a little surprise appearance. Felt like being on stage with the Beatles *sigh* !
Never thought I'd get the chance to see #montypythonlive and it was an unforgettable night. Truly great.
But some of the biggest cheers of the night were reserved for archive clips showing the sixth Python Graham Chapman, who died from cancer in 1989 at age 48.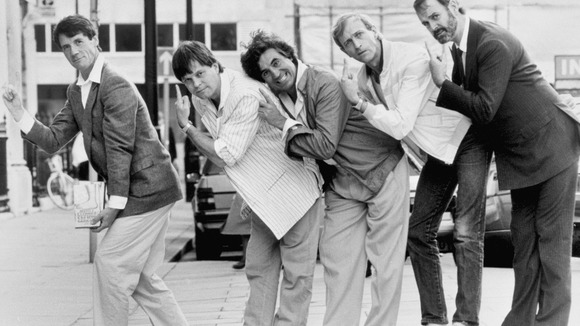 The Pythons, who have been open about the financial reasons for the reunion, had two giant "merch-o-meters" at the side of the stage measuring sales of T-shirts, posters and other items during the interval.
Audience members that it was worth every penny to have caught a rare performance from the group in what was one of the hottest tickets of the summer.
Sally Baxter, from Swindon, said: "I saw them on TV when they started out so this was a little bit of my youth up on stage."
The troupe's final show on 20 July will be recorded and broadcast in cinemas around the world.