William Hague has stepped down as Foreign Secretary after a Cabinet reshuffle by David Cameron.
From Conservative prodigy to veteran of the Tory ranks, Mr Hague rose to the top in British politics.
He was catapulted to national attention as a 16-year-old when he unleashed his now famous Yorkshire speech on the 1977 party conference, to the delight of Margaret Thatcher and the media.
What sort of world do young people want? Like the rest of the British people, they share the aspirations and hopes of the Conservative Party, but in this case it is not translated into Conservative votes.

They want a society where effort and initiative are rewarded instead of stamped upon, where those who work the hardest receive the greatest reward, where those who take the greatest risk receive the largest profit.

They want to live in a world where it pays to work and, more important, where it pays to work in Britain.
– William Hague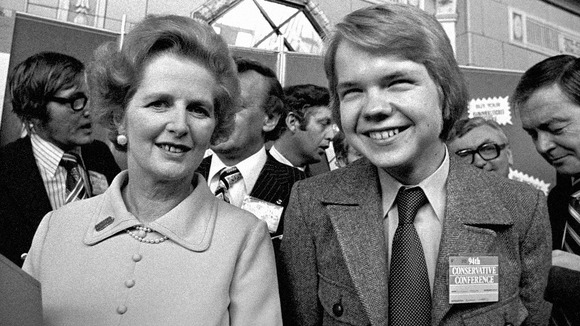 He cut his election teeth with defeat at the 1987 General Election in the Labour stronghold of Wentworth, near Rotherham - but within two years was in Parliament, winning a by-election in Richmond, North Yorkshire.
Speaking to GQ magazine in 2000 he said:
I was the driver's mate, delivering the bottles and beer around South Yorkshire. We used to have a pint at every stop – well the driver's mate did, not the driver, thankfully – and we used to have about 10 stops in a day.

You worked so hard you didn't feel you'd drunk 10 pints by four o'clock, you used to sweat so much.

But then you had to lift all the empties off the lorry. It's probably horrifying but we used to do that then go home for tea and then go out in the evening to the pub.
– William Hague - Interview, GQ magazine, August 2000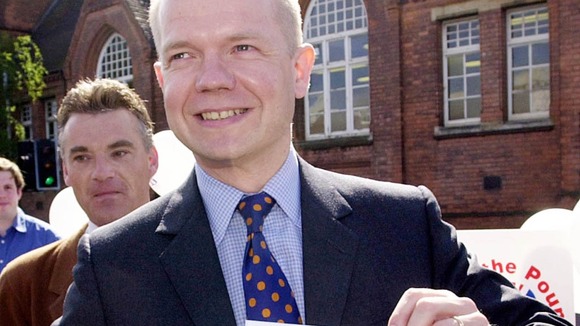 Hague entered the Cabinet as Welsh secretary in 1995 - a posting where he met civil servant Ffion Jenkins, whom he married in 1997.
More: William Hague: Time is right to move on from politics
He then took on the Labour leader Tony Blair, who had been swept to power on an overwhelming wave of public support in 1997 after 18 years of Tory rule.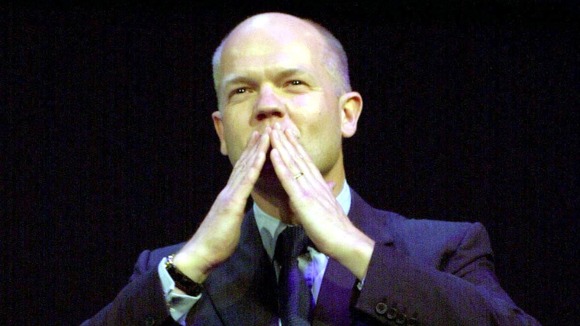 His time as leader is perhaps best remembered for his campaign to "save the pound" while many nations in Europe adopted the Euro as their currency.
During Prime Minister's Questions in October 2000, he memorably told the Commons:
Nothing is more absurd than a Prime Minister who has committed us in principle to joining the Euro saying last week that he was against it.

He talks about his five tests; we know what they are: 'Does Peter want it? Will Gordon let me? Will the French like it? Will Robin notice? Can I get away with it?'
– 25 October 2000, House of Commons, Prime Minister's Questions

Yet a widely-criticised 2001 campaign ended with the Tories gaining just one seat and Mr Hague standing down.

His return to the backbenches was not permanent though with Hague eventually persuaded to return to the top end of the party as shadow foreign secretary.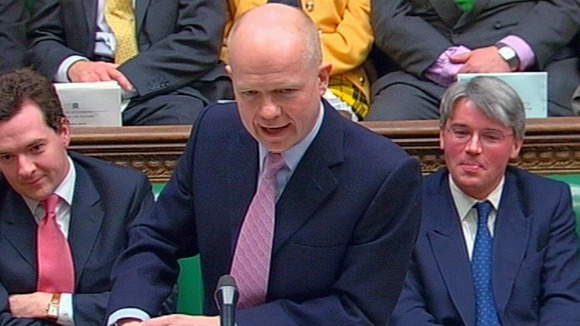 He emerged relatively unscathed from the Westminster expenses scandal, forced only to repay £600 in mortgage interest claims.
PM: Hague has been 'one of Tory Party's leading lights'
When the Tory-Liberal Democrat coalition assumed office, Hague was confirmed as Foreign Secretary.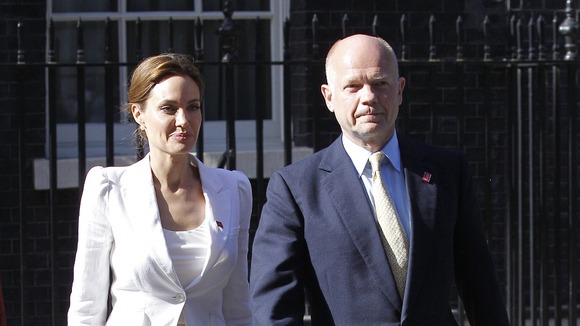 His return to office was marred by internet rumours about his personal relationship with his then-special adviser Christopher Myers and the extraordinary personal statement Hague issued to counter speculation.
Hague denied having had an ''improper'' relationship with Mr Myers, although he said they had ''occasionally shared twin hotel rooms'', and insisted his marriage was secure.
Hague also went public with the difficulty he and his wife had encountered in having a family.
I have made no secret of the fact that Ffion and I would love to start a family. For many years this has been our goal. Sadly this has proved more difficult for us than for most couples.

We have encountered many difficulties and suffered multiple miscarriages, and indeed are still grieving for the loss of a pregnancy this summer.

We are aware that the stress of infertility can often strain a marriage, but in our case, thankfully, it has only brought us closer together.
– William Hague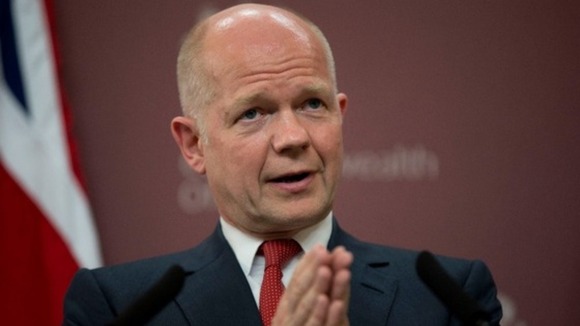 However, he has been a vigilant Foreign Secretary during a tumultuous period for international affairs, largely dominated by the Arab Spring.
Last year Hague described the Syrian regime as ''an evil we must stand up to one way or another'' but insisted the Government was not ''gung-ho'' about military action.
Downing Street announced Hague will replace Andrew Lansley as Leader of the Commons
after standing down as Foreign Secretary, before quitting as MP for Richmond, North Yorkshire next year.
William Hague's list of random requests by Brits on holiday to the Foreign Office: