News
The family of murdered teenager Alice Gross have released the following statement via the Metropolitan Police.
Advertisement
The Metropolitan Police has confirmed that the body found earlier today is missing West London teenager Alice Gross.
Two RAF Tornados have carried out a third air strike in Iraq.
The Ministry of Defence said the fighters had been on patrol over north-west Iraq when they were asked to assist Kurdish ground forces who were under heavy fire from Islamic State militants.
The aircraft conducted a successful strike with Paveway IV guided bombs.
Footage taken by a drone above the streets of Hong Kong shows the scale of the pro-democracy protests.
Tens of thousands of protesters remain on the city's streets as they call for Leung Chun-ying to stand down after Beijing ruled out free elections for Hong Kong's leader.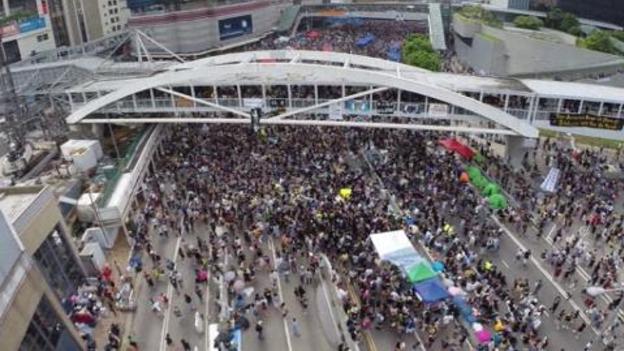 Advertisement
Former Tory donor Aaron Banks has said he made his decision to switch to Ukip as he had always been a strong advocate of leaving the European Union.
Speaking at a press conference alongside Ukip leader Nigel Farage, Mr Banks said: "I woke up this morning intending to donate £100,000 to Ukip.
"I understand Mr Hague called me 'a nobody' so in light of that in view of the fact that i'm a strong advocate of leaving the EU I've decided today to donate £1 million to the party and not the £100,000 we originally agreed."
"I was hoping Mr Hague will now know who I am," Mr Banks quipped in reply.
Thanking Mr Banks, Mr Farage said it had been a "remarkable week" for Ukip.
Police in California are investigating a seemingly random attack on more than 900 birds inside a farm in Fresno.
The birds were killed with a golf club after intruders broke into their shed.
Officials from Fresno County Sheriff's office said that the attack happened on September 20th after the suspects pulled back a fence and gained access to the shed of Foster Farms. The birds were killed with a golf club, and possibly another similar type of blunt instrument.
The farm owners said the attack appeared to be random, and called it an "unconscionable act of animal cruelty."
Children from Sandy Hook Elementary School are being bused away to a nearby school where they can be picked up by their parents, local TV statio WFSB reports.
Former Tory party donor and insurance businessman Aaron Banks said that he increased his donation to Ukip from £100,000 to £1 million after allegations that former Conservative Foreign Secretary William Hague called him "a nobody".
Load more updates
Back to top