News
A second pilot over the past three days has been arrested over concerns about alcohol levels in his body. Ian Jennings, 47, from Gale Moor Avenue, Gosport, Hampshire, was arrested at Norwich Airport yesterday afternoon after landing a private plane.
He has been charged with performing an aviation function when the alcohol in his breath was over the prescribed limited, Norfolk Police said.
Jennings was released on bail to appear at Norwich Magistrates' Court on November 13 where he will face the allegation under the Railways and Transport Safety Act 2003.
Advertisement
Staffordshire Police says the investigation into the explosion and fire at SP Fireworks in Stafford will continue this morning.
Officers have been working throughout the night to make the scene safe.
In a statement released last night, the police said that emergency services were planning to reduce the size of the cordon in the early hours of morning allowing Baswich Lane to reopen to traffic.
But officers added that Tilcon Avenue will remain closed and cordoned off whilst the investigation continues.
An elderly dog breeder who was found guilty of murdering his partner and her daughter at his puppy farm in Surrey is to be sentenced later.
John Lowe, 82, used a shotgun to kill Christine Lee, murdering the 66-year-old and her daughter Lucy, 40, at his home near Farnham, Surrey, in February. In court it emerged the weapon had previously been seized by Surrey Police, but was later returned.
The force apologised to the family after the weapons were confiscated in March last year following an allegation that threats to kill had been made, but were returned to Lowe four months later.
Royal Bank of Scotland has reported third quarter profits of £1.27 billion, compared with a loss of £634 million in the same period last year.
It is the first time the bank has reported a profit for three quarters in a row since the height of the financial crisis, in which the bank nearly collapsed.
RBS also said it was setting aside £400 million to settle foreign exchange rate-rigging allegations.
RBS, which is 80% owned by the taxpayer after being rescued during the financial crisis, said it was putting aside a further £100 million to cover compensation payouts for customers mis-sold payment protection insurance.
Advertisement
Israel's foreign minister has slammed Sweden's decision to recognise the state of Palestine, saying the Middle East crisis was "more complicated than self-assembly furniture at Ikea."
Foreign Minister Avigdor Liberman wrote on his Facebook page that Sweden's stance "strengthens the extremist elements," NBC News reported.
Yesterday Sweden became the third western European country to recognise Palestine as a state.
Israel reacted by withdrawing its ambassador from Stockholm in protest.
A dry day is expected across most of England and Wales today, with warm sunny spells set for the south and east, giving a top temperature of 21C (70F).
However, outbreaks of rain will continue in the far northwest and across Northern Ireland. Winds will strengthen in the west, with the rain edging slowly southeastwards later.
A survivalist suspected of killing a US police officer has been captured following seven weeks on the run.
Eric Matthew Frein, an expert marksman, allegedly killed a Pennsylvania state trooper and seriously wounded a second officer in a sniper attack on 12 September.
The 31-year-old has eluded capture by hundreds of law enforcement officers since the attack.
According to local media reports he was finally discovered in an abandoned airplane hangar.
Firefighters who are over the age of 55 and fail a vital fitness test "face the sack", a union chief warned Good Morning Britain.
Sean Starbuck from the Fire Brigades Union (FBU) said despite evidence showing 66% of firefighters between 55 and 60 would not be fit enough to rescue people from a burning victim, the government were insisting they work until 60.
Mr Starbuck said today's strike was about getting a fair deal on pensions - which they had already got in Northern Ireland and Scotland.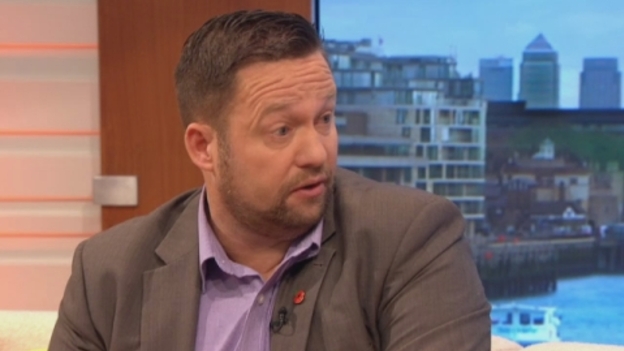 Load more updates
Back to top