Comedian Joan Rivers seemed to promote the new iPhone 6 from the grave today after posts appeared on her official Facebook and Instagram accounts, TMZ reported.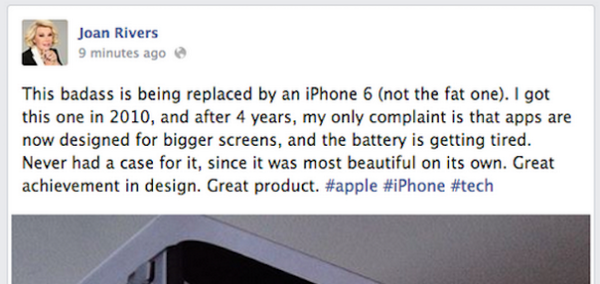 The post appeared on Rivers' Facebook and Instagram pages for a brief period this morning before they were removed.
TMZ suggests the posts were the result of a "pre-negotiated deal" with Apple and before her death she had scheduled them to publish on the iPhone's launch day.
Advertisement
A US headteacher has pledged to pay for a student's textbooks for a year if they beat him at a popular video game.
Wearing a baseball hat and eye black, Scott Dalrymple, president of Columbia College in Columbia, Missouri, hands down the challenge in a video posted on YouTube.
Students at the college will go up against each other in an online Madden 25 challenge before the winner goes head to head against Dalrymple.
Sorry, this content isn't available on your device.
CCTV footage has captured the moment an "optimistic" thief failed to steal a large piece of art by hiding it underneath his hoodie.
Read the full story ›
A man who found a fake moustache hidden in a water vale has discovered his ex-housemate had been planning an long-term dad-joke.
Read the full story ›
A female motorcyclist who hates litter bugs seems to have taken drastic action to make people stop dropping rubbish on the streets in Russia
Read the full story ›
Advertisement
Nothing could distract Japanese flutist Yukie Ota from her performance - not even a butterfly which decided to land on her face.
Read the full story ›
A Scottish holidaymaker is hoping that a cloud she spotted has not predicted the outcome of the independence referendum.
Photographed in Sardinia in August, the cloud appears to resemble England, Wales and Northern Ireland with Scotland noticeably absent.
Gillian Degnan, 44, who grew up in North Ayrshire, said: "The referendum is the talking point between everyone at the moment and I started to wonder whether it was an omen about how the vote is going to go."
As she now lives in Nottinghamshire, Gillian won't be able to vote on Thursday, but said if she could, "I would vote No. I think Scotland would be too small on its own."
Newly-released documents reveal how British spymasters used an enticing female agent to test the mettle of rookie spies.
Read the full story ›
Load more updates