The terrifying moment an apparently unconscious skydiver plummets towards the ground after jumping from a plane has been caught on camera.
Read the full story ›
Advertisement
A woman who attempted to get her idol's full pout was left with hugely swollen lips when her plan went horribly wrong.
Read the full story ›
A Para who won the Victoria Cross gave up his military history studies just weeks into the course as he wanted to be a part of it instead.
Read the full story ›
Lego have waded into the white and gold or blue and black dress debate by making their very own versions.
A post on their Instagram page read: "White and gold...black and blue? We found a way around science - you can have both!"
It comes after the dress which sent the internet into a frenzy was finally revealed as being blue and black by its designer.
However, the makers now plan on making a white and gold version after selling out of the dress yesterday morning.
Read more: The dress that demonstrates colour doesn't really exist
Ukip leader Nigel Farage has said he is convinced the dress is neither black and blue nor white and gold, and is in fact green. He was speaking to ITV News Political Correspondent Lewis Vaughan Jones.
Nigel Farage's answer to what colour is the dress "green" he tells me. @itvnews
Advertisement
The Birmingham-based company behind what has become known as 'the dress' said its viral fame has caused it to sell out.
Ian Johnson, creative manager for Birmingham-based Roman Originals, said the dress sold out from the website within half an hour this morning.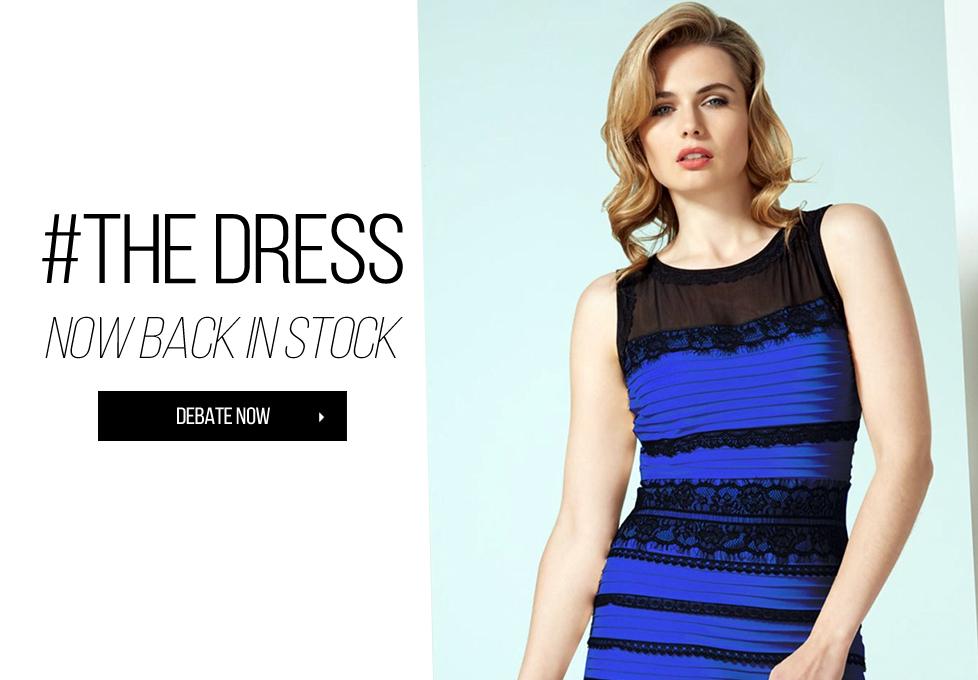 Johnson they have been overwhelmed with demand for the black and blue dress, and have also been inundated with calls from people who want a white and gold version.
We're vastly over where we'd be normally.

Our website's currently at about a million visits to this page alone. It is back in stock now, and we are looking pretty good into the weekend.

Our head designer, Michelle Bastok is discussing the possibility of the white and gold version, and we are hoping to get that made soon.
– Ian Johnson
Even Permier League footballers have been weighing in on whether that dress is black and blue or white and gold.
Yaya's reaction is priceless.
The dress that has got the world on a tailspin shows us how complicated our colour perception is.
Read the full story ›
Some say it's white and gold and others claim it's blue and black. So why do we see things differently?
Read the full story ›
Load more updates