Children's parties. Normally they are filled with fun, games and lots of sugar. The little ones leave with party bags and often hyped up, the parents leave well exhausted.
But given all the recent publicity about the dangers of sugar what if there were parties with none at all? Would it spoil all the fun?
Ellie Barker has been investigating.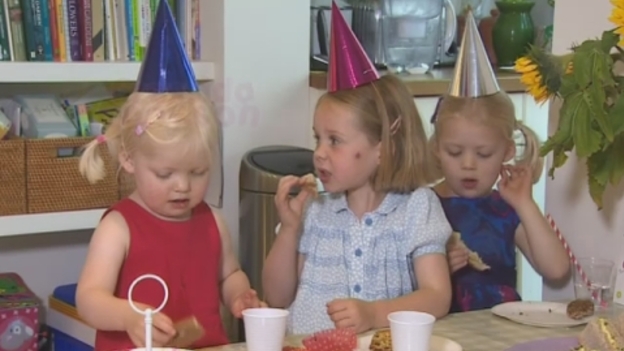 Advertisement
Police are appealing for witnesses to an incident of criminal damage which took place over the last few days at St Faith's Crematorium in Horsham St Faith.
Between 9am on Saturday 25 October and 3:15pm on Tuesday 28 October, a child's gravestone had an obscene remark written on it and flowers damaged around it. This is the second time the gravestone has been damaged in the last five months.
PC Steve Coe, Sprowston Police Station, would like to hear from anyone who witnessed the incident or has information concerning it. PC Coe can be contacted on 101 or alternatively call Crimestoppers anonymously on 0800 555 111.
Royal Mail is opening 10 temporary centres to deal with the increase in parcel deliveries in the busy run-up to Christmas.
Around 4,000 seasonal workers will be based in the sites at Bathgate in West Lothian, Leeds, Middleton in Greater Manchester, Wolverhampton, Llantrisant in South Wales, Swindon, Greenford, Peterborough and Milton Keynes.
Advertisement
Two sheep have been seriously injured during a dog attack on a farm in Crick.
The incident, which happened sometime between 6.15pm and 6.45pm on Saturday, October 25, saw one of the animals have its ears bitten off by the dogs.
Another sheep was also seriously injured in the attack, which is believed to have been carried out by two lurcher-type dogs.
It is believed that two men took the dogs into the field and officers investigating the attack are keen to trace them.
It is an offence for a dog to worry livestock and both the owner of a dog and the person in charge of it if they are not the owner, can be prosecuted.
Anyone with any information about this incident, or who has been a victim of livestock worrying, can call Northamptonshire Police on 101 or Crimestoppers anonymously on 0800 555111.
Detectives have released images of two men they would like to speak to after a 90-year-old woman from Welwyn Garden City was conned into spending £50,000 on electrical goods by men pretending to be police officers.
She bought a mobile phone, iPad and Playstation in her home town before travelling to London where she bought two watches in Selfridges.
Hertfordshire police say she had been targeted in telephone calls from a man claiming to be a police officer on September 23.
The telephone that was used to contact the pensioner is believed to have been topped up in a convenience store in Midland Road, Bedford.
Anyone who recognises the men, or has any other information about this incident, should contact Hertfordshire Constabulary's non-emergency number 101, quoting crime reference B1/14/2834. They could also call Crimestoppers anonymously on 0800 555 111.
Load more updates
Back to top