Claire McGlasson has gone behind the scenes of the Milton Keynes Theatre to find out more about what goes into staging Peter Pan.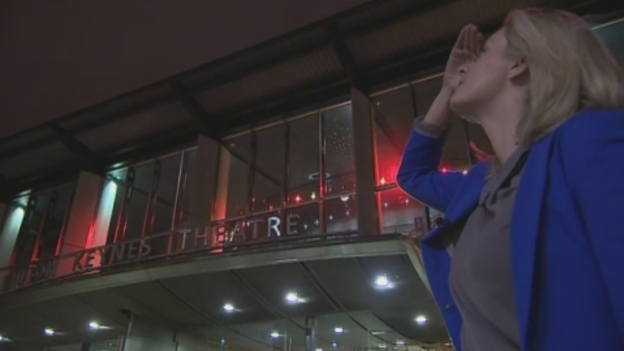 Advertisement
Northampton Town have recalled John-Joe O'Toole from his loan spell with fellow League Two side Southend.
The club recalled the midfielder today and he'll be available for the upcoming festive fixtures.
Bedfordshire Police have handed more than 20 boxes of food to local food banks following an appeal by the Chief Constable.
The donations were made by officers and staff.
The RSPB is urging people to put on a festive feast to fatten up garden birds this Christmas.
But the Bedfordshire-based charity has warned people not to leave out cooked turkey fat, which could prove fatal.
The fat remains soft even when cooled and it could easily smear onto birds' feathers and ruin their water-proofing and insulating qualities which is essential if they are to survive the cold winter weather.
The fat could also turn rancid, providing an ideal breeding ground for salmonella and other food poisoning bacteria.
Richard James, RSPB Wildlife Advisor, said:
A new team of Special Constabulary officers has been launched in Cambridgeshire to support the force's Rural Crime Team.
Senior officers say the new team will provide visible reassurance to remote communities and businesses, supplementing the existing local area patrol officers.
Among the issues facing rural communities and businesses in Cambridgeshire are hare coursing, theft from farms and outbuildings, theft of machinery and straw-stack arson.
Cambridgeshire police has about 300 special constables and is keen for more to sign-up.
Advertisement
Prince Harry showed off his football skills when he joined Norfolk villagers for a Christmas Eve football match.
Harry is spending part of the festive period with other members of the Royal Family who are enjoying a traditional break at the Queen's private Norfolk estate of Sandringham.
He played in the same fixture last year for the Sandringham estate workers who took on villagers from neighbouring Castle Rising.
Harry was a key member of the team, making tackles and getting involved in the action.
Harry's team ran out easy winners.
A cyclist is being treated for serious leg injuries following a collision in King's Lynn this morning.
The woman was cycling on Hardwick Road at around 6:35am when she was in collision with a black Suzuki Alto close to the junction with Hansa Road.
The cyclist is being treated at Queen Elizabeth Hospital. Anyone who may have witnessed the accident is asked to call police on 101.
Suffolk Police are hoping people can help prevent the theft of lead from churches over the festive period.
The county has suffered from a number of metal thefts, including the theft of lead from churches.
In August two churches near Newmarket were targeted by metal thieves, causing up to £200,000 worth of damage.
Police are also encouraging churches to consider the installation of lighting, CCTV and/or roof alarms.
Load more updates
Back to top