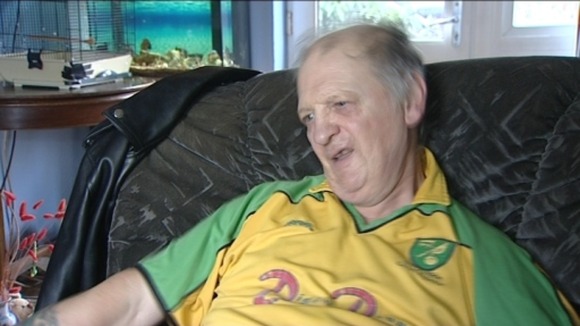 Gordon Barnes from Brooke near Norwich was left to hitchhike home after his treatment at the Norfolk and Norwich Hospital.
Gordon's had Parkinson's for 19 years. It's a disease which attacks the central nervous system.
A few days ago he fell and was knocked unconscious. An ambulance took him to the Norfolk and Norwich University Hospital where Gordon said he was treated well. It was what happened after he was discharged that has left him angry.
He was discharged at one in the morning with no money for a cab, no assistance and no way of getting home in freezing conditions:
I said to them could they get me a cab and I'd give them the money at the other end but they said they didn't do that. So half joking I said 'Well all I can do is hitchhike.' He said 'Fine that's fair enough'.
– Gordon Barnes

The Norfolk and Norwich University Hospital have apologised to Mr Barnes saying that they are very sorry for any distress they may have caused:
"We do have processes in place to ensure vulnerable patients have transport home and our staff do ensure that transport options are discussed with patients and their relatives, unfortunately this appears not to have worked smoothly for Mr Barnes".
– Nick Coveney, Director of Nursing

Gordon tried to hitchhike until 3am before returning to A&E and waiting until 8.45am for a bus. He hopes vulnerable patients will receive more consideration in the future.