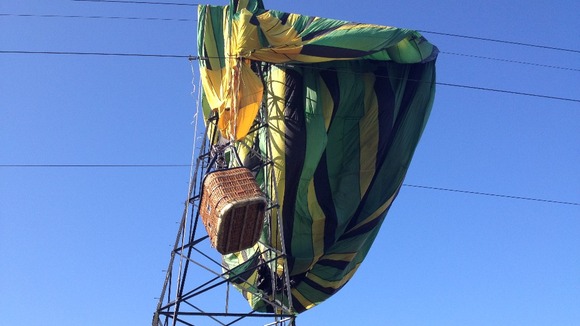 Three people have been rescued from a hot air balloon after it crashed into power lines in Northamptonshire.
Fire crews were called to Bozeat near Wellingborough in Northamptonshire around 6pm on Sunday to find the balloon basket suspended about 45 feet above the ground.
Three people inside, including the pilot, had to wait for several hours to be rescued whilst the electricity was turned off. They were treated for minor burn injuries at the scene.
An air accident investigation is now taking place.
Eyewitness Rachel Smith was taking photos of Hot Air Balloons as they flew over her village, she told ITV Anglia;
There were around four of them in the afternoon. That particular one was going to be my last shot but as I was going to take it it went into the pylon. It was very dramatic. There were sparks, smoke and a large bang. The balloon then started deflating straight away. My partner rang the emergency services and we were just both looking at it in disbelief."
– Rachel Smith, eyewitness

The balloon was removed from the power lines at lunchtime on Monday. Our correspondent Neil Bradford spoke to firefighter David Harding at the scene.