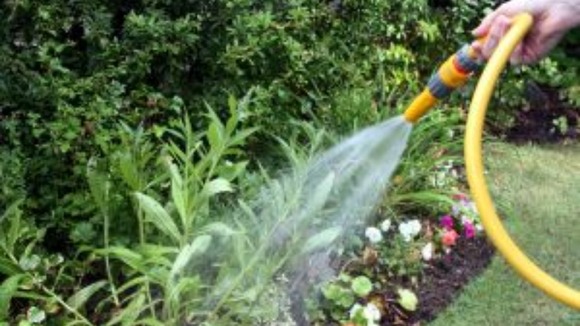 New warnings have been issued to urge people to continue using less water despite the recent heavy rain showers. The Environment Agency says the recent rain is useful for farmers and gardeners but will take a long time to replenish underground water stocks.
Many rivers in the Anglia region are still running well below normal for the time of year and some reservoirs are still at low levels.
"While we've had some welcome rain this week, the environmental drought affecting large parts of England could last until Christmas. The soil is so dry that only steady rain over the winter will restore rivers and groundwaters. We would urge everyone – right across the country – to help by using less water.

We are working with businesses, farmers and water companies to plan ahead to meet the challenges of a continued drought"
– Polly Chancellor, National Drought Co-ordinator

It has been another wet week across England and Wales. But the Environment Agency says, because the soils are so dry, the rainfall needs to fully wet up the soil before further rainfall can percolate down to underlying aquifers. Groundwater levels remain very similar to last week.

Many places in the Anglia region have already had more rain in the first three weeks of April than is usual in the whole month although some areas are still drier than normal. But there's been enough rain to mean that April 2012 will be classed as a wetter than normal month; the rainfall total so far is 47 mm. It contrasts sharply with April 2011 when there were only 4 mm of rain.

There has been more rain in the past fortnight than there was in the whole of the three months of spring in 2011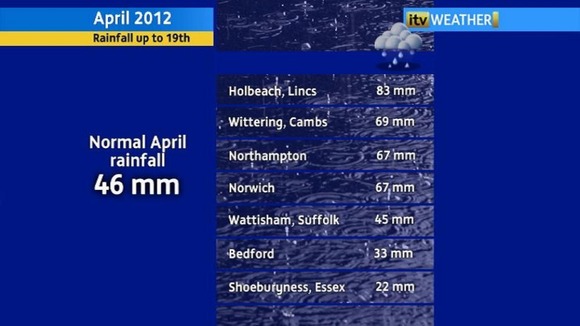 Despite the rain the Environment Agency is still classing river flows on the Ely Ouse as "exceptionally low" while the River Nene in Northamptonshire is "notable low".
Reservoir stocks are also still very low in a number of the Anglia region's reservoirs. This was the situation on 17th April:
Ravensthorpe reservoir, Northamptonshire - 46% full - exceptionally low
Hollowell reservoir, Northamptonshire - 59% full - exceptionally low
Pitsford reservoir, Northamptonshire - 65% full - notably low
Rutland Water - 77% full - notably low
Abberton reservoir, Essex - 87% full - below normal
Hanningfield reservoir, Essex - 92% full - normal
Alton Water, Suffolk - 95% full - normal
Grafham Water, Cambridgeshire - 96% full - normal
Ardleigh reservoir, Essex - 97% full - above normal