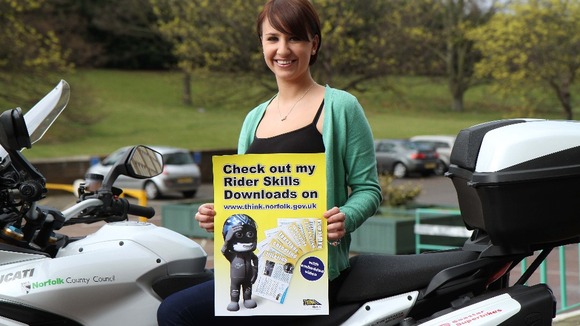 Road safety officers in Norfolk have made training videos for motorcyclists to try to reduce the number of deaths on our roads.
From the beginning of January to mid-March, two motorcyclists have been killed in crashes - this compares to zero for the same period last year and 21 people have been seriously injured.
The downloads offer advice on overtaking, cornering and anticipating dangers.
The campaign is being supported by Cara Zagni, 21, from Thorpe Marriott, who lost her father in a motorcycle crash two years ago. She was influenced to choose a career in nursing as a result.
"I'm hoping my involvement will help make more bikers aware of what can happen and the impact it may have. I would not wish anyone to have to go through what my family and I have had to."
– Cara Zagni

Ms Zagni has praised the downloads and says she hopes the awareness will reach more people.
"It's important to make as many bikers as possible aware of the Hugger downloads and courses available. Even just looking at the downloads available online may make them think more about what they are doing when riding.

"If a rider hasn't taken part in any training since their tests, it can increase their awareness and safety. I would urge people to get involved with all of the training on offer from the County Council and Police."
– Cara Zagni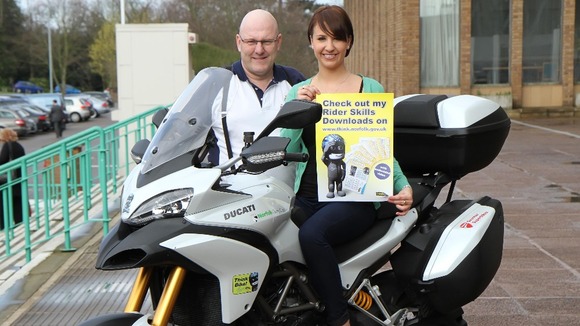 Norfolk County Council has teamed up with the Police to provide new and free motor cycle skill downloads, which it hopes will encourage motorcyclists to improve their riding.
The 'Think Bike' campaign is also relaunching across Norfolk to remind motorists to be especially aware of those travelling on two wheels.
"There are fine margins in whether a motorcyclist escapes from an accident relatively lightly, or is seriously injured or killed.

"There was always the risk that a strong rise in slight injury crashes would lead to more serious injuries or fatalities - although some of the difference may be explained by the severe pre-Christmas weather which kept bikes off the road in 2010, whereas they continued to be ridden in 2011."
– Andy Micklethwaite, Norfolk County Council's Road Safety Officer for Motorcycles
"Motorcyclists feature far too often in our accident statistics, and the start of this year has taken its toll with two deaths and 21 serious injuries. What is frustrating is knowing that the range of training on offer could very well reduce this toll.

"We hope that these free downloads will encourage motorcyclists to take the next step and join one of these courses, honing their roadcraft and control skills with the help of the experts."
– Alec Byrne, Chairman of Norfolk Casualty Reduction Partnership

Details of the courses can be found on www.think.norfolk.gov.uk