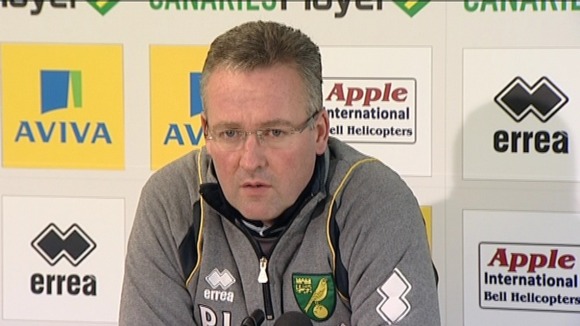 Norwich City Manager Paul Lambert insists there's never a good time to play Liverpool, despite the Merseyside giants' below-par performances in the Premier League.
Seven defeats in ten games - the latest at home to West Bromwich Albion - have seen Liverpool slip out of the running for a Champions League spot.
But Lambert says the run counts for little, and he believes his players have to be 'bang on' to take points at Carrow Road, especially after losing at Blackburn last weekend.
"I haven't got a problem lifting the players. The game itself will lift them. Liverpool are a top side. The players they've brought in are outstanding, the history and the tradition of the club speaks for itself.

"Whichever way you want to look at it, they're a top, top club. Carling Cup winners, FA Cup finalists, their fanbase is huge and with Kenny Dalglish as manager, it speaks for itself".
– Norwich City Manager Paul Lambert

Meanwhile Lambert gave little reaction to a national newspaper story linking him with Premier League strugglers Aston Villa, with manager Alex McLeish under pressure. "You can never stop speculation, but it's extremely unfair linking people with Aston Villa when they already have a very good manager there", Lambert said.