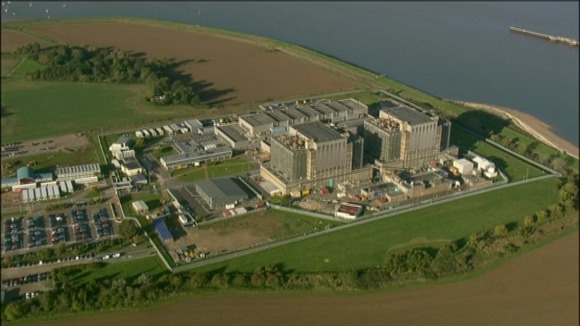 The decommissioning of one of the region's nuclear power stations continues apace. The cooling ponds at the Bradwell atomic plant in Essex have now been drained.
3000 cubic metres of water, more than an Olympic-sized swimming pool, have been drained from the cooling ponds. It marks a significant milestone in the decommissioning process of Bradwell nuclear power station, preparing it for the next stage 'care and maintenance' that's scheduled to begin in 2015.
For 40 years it supplied 60 billion units of electricity to the National Grid - enough to supply the whole of the UK for 6 months. Last August the turbine hall was demolished but Bradwell's nuclear future is by no means over as the government's earmarked the site for a new nuclear station that could be built within the next decade
"Sizewell is currently defuelling and then it will enter its decommissioning phase following defuelling and we're introducing strategic programmes so the ponds that work here at Bradwell will be transferred eventually and undertaken at Sizewell."
– Alan Walker, Ponds Programme Delivery Manager

A temporary site to store the contaminated material is being built but nothing has been set up nationally to deposit the insides of the reactor core. Its anticipated removal and completion of the decommissioning process will be in 2087.