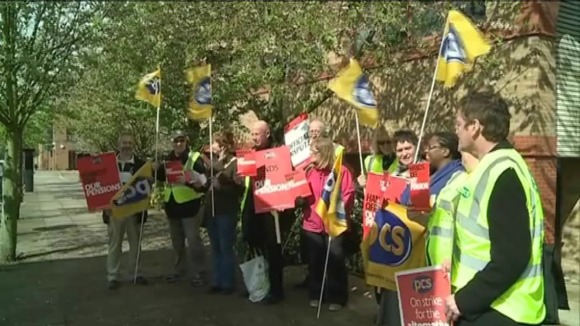 Thousands of public sector union members across the region have joined today's national strike action.
The action involving civil servants, health workers, border staff and college lecturers is over changes to pensions. As well as picket lines and leafleting, two rallies are taking place in Northampton and Norwich.
Staff have walked out at courts and airports, and there were previously unannounced strikes reported at up to 80% of prisons. Hundreds of off-duty police officers from forces in the East have also travelled to London to voice their concerns over the changes.
These include raising the retirement age to 68 for some workers, increasing employee contributions by up to 50% and moving from a Final Salary Scheme to pensions based on average career earnings.
Simon Boniface from the PCS Union HMRC in Milton Keynes says the proposals leave workers with a raw deal:
But responding to the action the government said the proposals were fair:
"It is very disappointing that a handful of unions insist on carrying on with futile strike action which will benefit no one. We would urge these union leaders to reconsider their position. Pension talks will not be reopened and nothing further will be achieved through strike action… Public sector workers are being asked to work a bit longer and pay a bit more, but they will continue to get a guaranteed pension which is index-linked and inflation-proofed. Most staff on low and middle incomes will receive a pension at retirement as good as what they expect today, and for many it will be even better."
– Minister for the Cabinet Office, Francis Maude