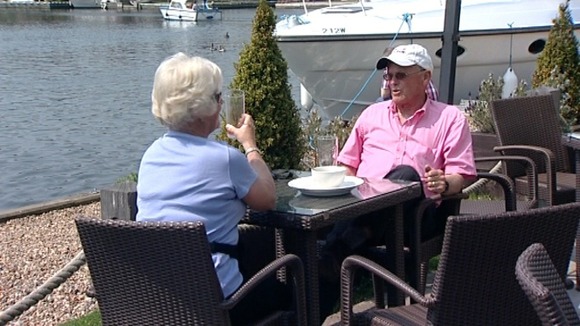 East Anglia has been enjoying a welcome change in the weather this week, with temperatures soaring above 25 C.
While many have been enjoying the summer sun, others are having had to work around the clock to keep up with it. At Wimpole Hall near Cambridge, much of the farm was put on hold over the past six weeks. The cold temperatures and heavy rainfall have created a backlog of work. Now the sun is finally shining, Farm Manager Richard Morris and his team have been working around the clock.
"It was the 31st March when we last put any fertilizer on field. We should have put some on in April but we've not been able to move, it's been so wet. So this week everything's been stacked up, we've got the fertilizer to get on, making silage, we've got stock to turn out, we kept them in longer. The lambs have also suffered through a long wet cold spell. Now all of a sudden it's become warm and the shift in temperature's a lot for an animal to deal with, so they're not quite sure where there up to."
– Richard Morris, Farm Manager

Retailers have also been busy keeping up with the summer sunshine. Pippa Sandison at Boudoir Femme on King's Street in Cambridge has seen a noticeable increase in demand for summer clothes this week.
"The last month we've been doing really well on our last chance rail, which includes more autumn/wintery outfits. This week is the complete flip side. We've really gone full into selling cropped trousers, T-shirts - people more geared up for looking for their summer outfits."
– Pippa Sandison, Boudoir Femme

But the warmer weather isn't being welcomed by the 1 in 4 of us who suffer from hayfever. Dr Pam Ewan, allergy specialist at Addenbrooke's hospital in Cambridge has already seen many patients suffering with recent rise in pollen count.
"Pollen's been there ready to be released but because of cold and wet it's been held down and suddenly when it gets warm these things are released into the air. We've seen patients who've had slight symptoms, then it's been a bit better because of the cold, rainy weather and now it's getting worse."
– Dr Pam Ewan, Allergy Specialist at Addenbrooke's Hospital

One of the top temperatures recorded in East Anglia today was 26 C at Mildenhall in Suffolk. While the temperatures may not stay quite as high as that, the next few days are set to stay fine, dry and sunny.