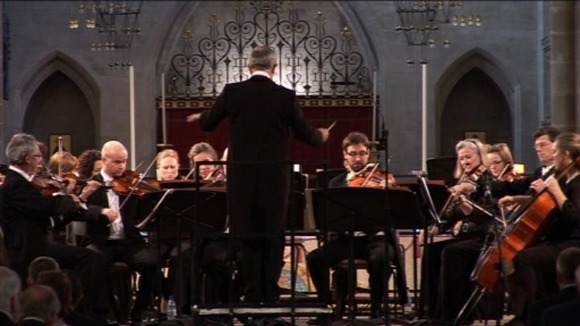 It's not everyday an orchestra is born. But for the people of Suffolk they can now claim their very own Philharmonic Orchestra.
Around 700 people attended the inaugural concert at St Edmundsbury Cathedral, with a repertoire including Elgar, Vaughan Williams and Britten.
The orchestra has been nearly a year in the making, and was the brainchild of local conductor Leslie Olive:
I've lived in Suffolk for ten years, which I know for Suffolk people isnothing, but I love it...this is the most wonderful, wonderful county… it just has to have a professional orchestra.
– Leslie Olive, Founding Conductor, Suffolk Philharmonic Orchestra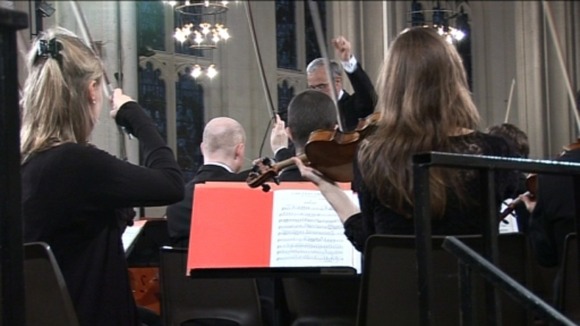 Their first concert consisted of 30 players, with 11 teenagers from the county getting to join the professionals on stage as part of the orchestra's commitment to education:
It was a bit scary at first but as soon as I started playing it was just brilliant, just being surrounded by all those professional players is great.

Hearing all the others play like that – I'd like to play like that one day. It's definitely going to inspire me to practice more!"
– Kerry Blofield, 14 year old violinist

Education and community are key elements to the orchestra. For the inaugural concert, music projects were launched in eight schools.

Leslie's ambition is for the orchestra to hold seven major concerts, as well as smaller performances in towns and villages, every year. That's expected to cost nearly £250,000.

So far the orchestra have raised more than £20,000 through donations and grants from groups like the Arts Council England as well as local businesses – some of whom have sponsored a player directly:
I feel quite proud to have someone who is looking out for me – it's quite nice!"
– Sarah Westley, cellist

The inaugural performance included solos from Thomas Gould, Benjamin Hulett and Martin Owen.