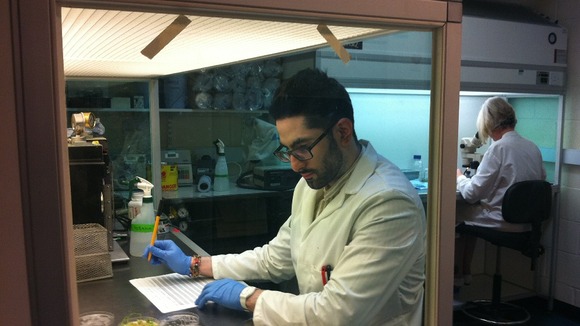 Scientists say they're still concerned protesters will try to destroy a trial of genetically modified wheat in Hertfordshire.
About 200 activists from the group Take the Flour Back held a demonstration near the Rothamsted Research site at Harpenden this weekend.
The protesters marched towards the trial crop but were held back by a heavy police presence.
Despite two arrests, the protest passed by peacefully. But there is still a high level of security at the scientific research site.
"The ultimate fear is that enough people get into the field trial site and destroy enough of the plant so we can't get any conclusions."
– Professor Huw Jones

The wheat has been engineered to produce a chemical that scares off aphids - a common wheat pest. Scientists believe it could be the future of pest control. The crop is now undergoing open-air trials, which are tightly controlled within a large buffer zone. But protesters still believe pollen from the wheat could contaminate the outside environment.

At Sunday's demonstration, one protester told ITV Anglia:
"It's just too dangerous and untested and it should be in a safe environment."
– Protester, Take the Flour Back

The trial is part of a 5-year study. Scientists say the open air trials are necessary and today pleaded with protesters to engage in dialogue, not destruction.