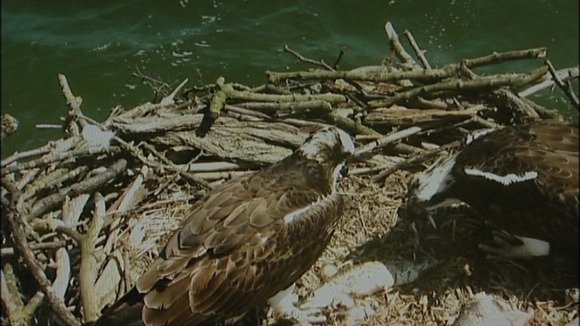 Two new Osprey chicks have hatched at Rutland Water. These birds are rarely seen in Britain, but the nature reserve near Corby is one of their very few nesting places. A high-definition camera was trained on the nest to capture the newborns' first few hours
The Osprey team have been tracking the birds using satellite transmitters. Their nest is manmade, and so the camera can capture the male bringing home trout for supper.
" It gives us a unique insight into whats happening in the first few hours of an Ospreys life. You can see how weak the chicks are when they first hatch and how quickly they grow stronger and are fed by their parents. Its just such a fantastic thing to be able to see it in brilliant detail"
– Tim Mackrill from Leicestershire and Rutland Wildlife Trust

The chicks will stay here with them for the next two months, before migrating, alone, to West Africa, a mere three thousand miles away.
"We released Ospreys in the late 90's to try and restore this fantastic bird to the East Midlands. Its working really well, this year we've got four pairs with chicks and lots more young birds coming back aswell, so hopefully the future for Ospreys in England is really bright"
– Tim Mackrill from Leicestershire and Rutland Wildlife Trust

Ospreys mate for life, the oldest birds returning here are 11 years old. These young osprey are not likely to return for several years, but when they do, they'll be caught again on camera.