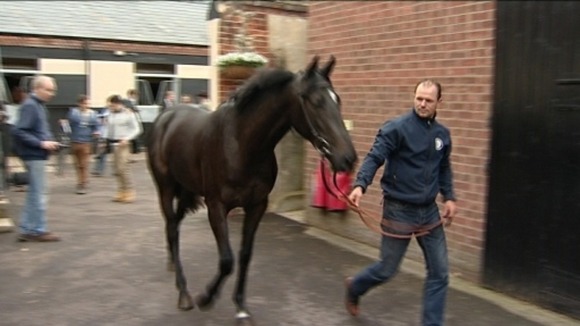 A new filly - which is part of a scheme to raise the profile of two charities - has been unveiled at a stables in Newmarket.
'Heroes Welcome' arrived in Newmarket in April and is being trained by Hugo Palmer.
She's the third horse to be part of the 'Heroes Racing Club', which was founded after a chance meeting between an ex-serviceman and a member of the racing community in Newmarket.
It stems originally from a Scottish charity that's been running for three years. Jock Hutchison and his wife Emma founded Horseback UK after spotting how horses could help rehabilitate injured service personnel.
"We act as a link between clinical recovery and the rest of your life and it's run as much as possible by guys themselves who've gone through recovery and have had military experience and it's about really giving people time after clinical recovery to consider the future."
– Jock Hutchison, Founder, Horseback UK

One of the first people to benefit from Horseback UK was Baz Barrett. He's thought to be the most seriously injured Royal marine to have survived Afghanistan, having knelt on an IED.

During his recovery, he was visited by a friend who was a triple amputee. His friend had benefitted enormously from working with horses, and this inspired Baz to follow suit. He still serves with the Royal Marines, but has been 'loaned out' to help with te charity.
"Even though you don't go out to inspire people I think that's what evolves of it. And for them to get a goal, and idea focus for what they want to do is only going to better them and progress them and get them out from the dark places they may be."
– Baz Barrett, Royal Marine

In the last year, Jock Hutchison has started collaborating with members of the racing community in Newmarket and they've come up with a type of 'affordable ownership club' which will not only enable people who couldn't usually afford it to have a stake in a horse, but it also raises the profile of its two chosen charities. It's called 'Heroes Racing Club'.

Find out more about 'Heroes Racing Club'

The other charity the scheme will support is Racing Welfare which supports retired jockeys and stablehands.