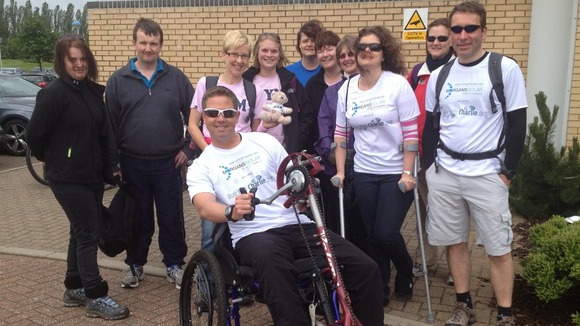 A Milton Keynes man who was hoping to complete 30 marathons in 30 days has had to stop running due to injury. But rather than give up on his charity challenge altogether, Charlie Wardle has found a novel way to keep going.
The 37 year old has enlisted the help of the National Spinal Injuries Centre at Stoke Mandeville Hospital in Aylesbury who have loaned him a hand bike.
"I was forced to stop running or walking due to injury but wanted to continue the challenge in some way and thought what are the options for people who have longer term injuries or disabilities?

"I made contact with the National Spinal Injuries Centre based in Aylesbury and they suggested this hand bike, whereby you sit in a wheelchair and propel yourself with your hands by rotating pedals on a front wheel. It is not really designed to be doing marathons and was really hard work but we did it!"
– Charlie Wardle, Charity marathon runner

Charlie completed his first marathon using the hand bike in just under 9 hours. He had wanted to run the 26.2 mile course around Milton Keynes every day in June to raise £30,000 for Climb Your Mountain, a charity he founded to help people suffering from depression.

Charlie says he hopes to be able to run again soon and complete all the marathons one way or another.