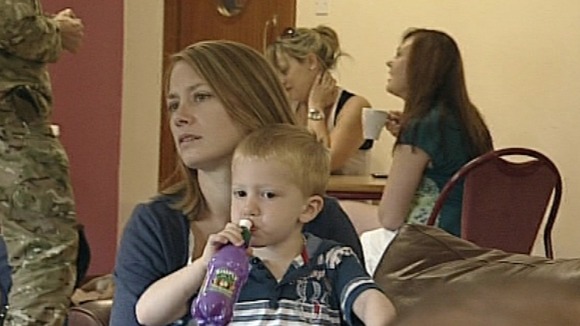 It's been several months since Royal Anglian soldiers left home to go on tour and while it's a difficult time for families left behind there is a lot of support out there for them.
The Welfare officer of the 1st Battalion the Royal Anglians, whose regimental headquarters is in Bury St Edmunds, says much more intention is paid to the needs of families these days.
"We're conscious that it's always on the mind of the soldiers and therefore it's vital that we get that right and put in a remarkable effort to support those back in the UK."
– Captain Lee Jay , Welfare officer 1 Royal Anglian

Day trips are regularly organised and activities are arrranged every week. The army works closely with the local schools to ensure they are involved as well.

Speaking at one of the army's coffee mornings, one Royal Anglian soldiers wife said:
"They're there for you, it's good to get out and mix and it makes the days go quicker as well."
– Carrie Browning, soldier's wife

While the army keeps a close eye on the welfare of military families, the Viking Support group is another way for relatives to share what they are going through. It was set up in 2008 by the mother of two Royal Anglian soldiers, Alison Burgess from Bury St Edmunds and a friend. They now have more than a thousand members from all over the world.
"When they're fighting in dangerous places it's a difficult thing to cope at home so to have other people going through similar experiences is really really helpful.
– Alison Burgess, Viking Support Group