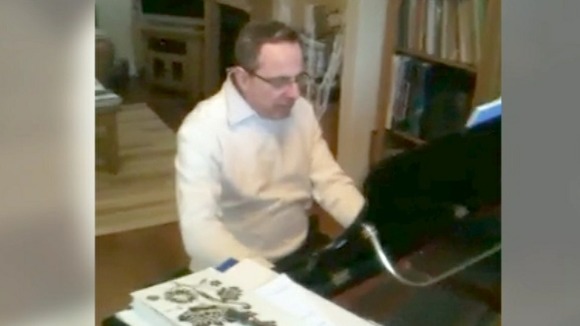 Raymond Banning, a talented musician from Bedford, is suffering from a form of dementia. He's being treated in a local NHS care home, but wants to be allowed home to die.
His wife's called in a solicitor to help her put her case. The NHS says it will make a decision later this week based on what's best for her husband.
Two years ago he was diagnosed with Pick's disease - a form of dementia that requires round the clock care.
He's currently in a local care home, but his wife Lorraine, is desperate for him to come home. According to his family, music is the only relief from his terminal illness.
"When he plays it is like he's brought back to life again. It is like we get the old Raymond back. You can't expect a care home to provide that level of musicianship which is essential to Raymond's peace of mind and quality of life."
– Lorraine Banning - Raymond's wife

The 60 year old from Bedford has had a distinguished career. A former professor at Trinity College of Music in London, he's performed around the world. His wife, also a pianist, says music is his life.

"When you've been a musician of his calibre, it is not what you do, it is who you are. It defines him and it's how he's always communicated. It has been at the essence of the spirit, the core of Raymond. And I think when someone has dementia of whatever kind, we shouldn't forget they are a human being".

Raymond Banning has received care at home before, but was admitted to a local care home in December to allow his wife some respite.

She says she's been fighting to bring him home ever since. NHS Bedfordshire told us a decision will be made later this week.
"The decision will not be based on cost but solely on what is considered to be most appropriate to meet Mr Banning's ongoing healthcare needs, following a very detailed assessment".
– NHS Bedfordshire statement

The family's solicitor, Yvonne Hossack, says health bosses face a stark choice.

"As a society we need to decide do we want to put this 60 year old man in a care home with people 20 or 30 years older than him, deny him the music that is at the core of his being and to deny him to be with his wife".

Music is also a big comfort for Raymond's wife as she counts the days until a decision is made about his future care. She's praying he can spend his final days at home doing what he loves best.