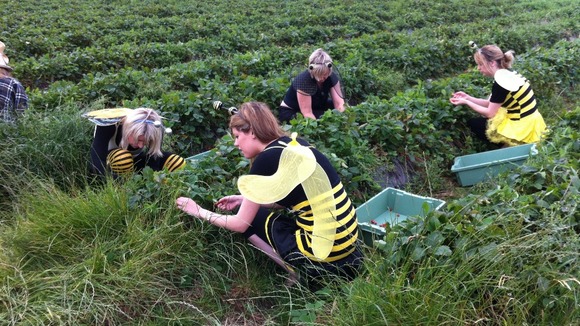 It's become something of a tradition in recent years - dozens of strawberry pickers taking to the fields in Essex competing to be the fastest.
Within six hours of the Tiptree Strawbery Race at Goldhanger, the fruit will be whisked back to the Wilkins and Sons factory in Tiptree and turned into Little Scarlet Strawberry Conserve, which has been out of stock since October 2011.
This year's race was held later than usual due to the wet and cold spring and the last two winters have also left their mark.
But despite that farmers from Wilkins and Sons say the crop is bouncing back and today they've raised more than a thousand pounds for the children's charity Brainwave.
"We had frosts in late 2010, 2011 we had an extended cold period where it was minus 14 for several days and that really knocked these delicate plants for six. They've come through it, we suffered a little last year in terms of yield, we'll suffer a little again in terms of yield and it will take them several years to recover."
– Chris Newenham, Wilkin and Sons Ltd

The winner was Sveltana Mihaylova from Bulgaria - collecting 6.7 kilos.