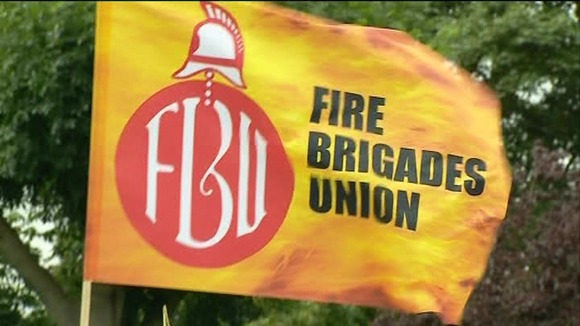 Firefighters from across the region have joined a march and rally in Chelmsford after colleagues in Essex went on strike. Members of the Fire Brigades' Union have walked for 24-hours in a dispute over cuts.
The union claims that 100 full-time firefighters and 60 retained firefighters have gone since 2008. That's a loss of 1 in 8. They say if planned changes to the service continue it will become 1 in 5.
The Fire Brigades' Union also announced new dates for further industrial action.
Two of the dates coincide with the Olympic Opening and Closing ceremonies but the FBU says it will provide 999 cover on those days.
New strike dates:
Thursday 26 July - 5pm to 7pm
Friday 27 July - 6pm to 9am next day (only responding to 999 calls)
Saturday 11 August - 2.30pm to 5.30pm and 9pm to midnight
Sunday 12 August - 9am to 6am next day (only responding to 999 calls)
Wednesday 5 September - 9am to 1pm
Thursday 18 October - 11am to 4pm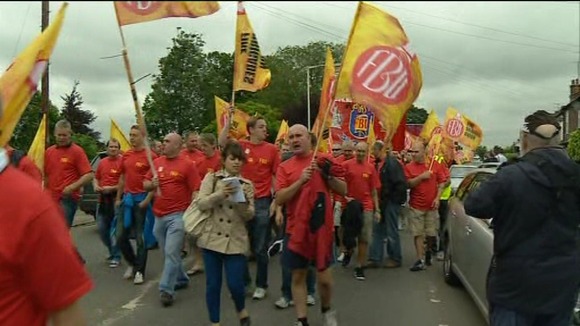 "The fire authority has shown no sign of compromise and has left us no choice other than to call additional action in our campaign against cuts to the frontline fire and rescue service in Essex and other imposed changes."
– MATT WRACK, FBU GENERAL SECRETARY

Essex Chief Fire Officer David Johnson has called on the Fire Brigades' Union to join him for talks with ACAS to resolve their dispute. Mr Johnson said he was meeting with the conciliation service ACAS to come up with proposals to put to the FBU.
"It would have been very helpful if the Fire Bridgades' Union had attended but they've chosen to go to a demonstration instead which I feel is less productive than sitting around the table and trying to resolve the dispute."
– David Johnson, Essex Chief Fire Officer