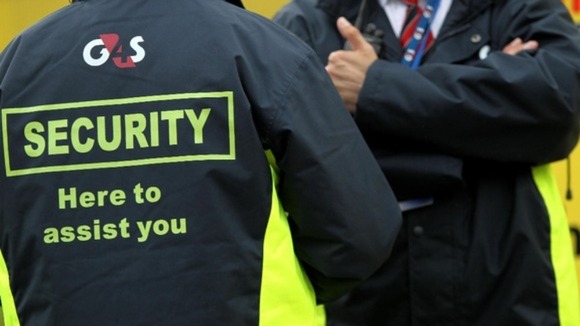 ITV Anglia understands that the under-fire security firm G4S will be knocked back from outsourcing contracts for Hertfordshire, Bedfordshire and Cambridgeshire Police forces next week.
ITV News Crime Correspondent Jon Clements understands that the police forces, led by Cambridgeshire Police, now prefer to merge IT, HR, payroll and legal departments and take smaller savings. A source told him that G4S is now seen as an unacceptable risk.
Speaking to ITV Anglia, Jon Clements, said that senior officers from the three forces met last night to discuss which proposals it could put forward to the Police Authority.
Now officially they're not saying what conclusion they've come to, but my sources tell me that one thing is for certain - G4S really is not going to have any role to play in the outsourcing of any functions of these three police forces.
– Jon Clements, ITV News Crime Correspondent

It is understood the three forces are considering two options - whether to bring in alternative private contractor or to merge the backroom functions.
Well, they've really got two options - they can either find another private sector partner to bring in... or the alternative is that these three Police Forces merge their backroom functions - their IT, their HR, their payroll - on their own.

Now I understand that would actually save them less money than they were hoping for, but in the current climate in the light of the Olympics shambles, that is a preferable option to taking on G4S which is now really seen as an unacceptable risk.
– Jon Clements, ITV News Crime Correspondent

Responding to the news Cambridgeshire Police released the following statement:

The Chief Constables of Bedfordshire, Cambridgeshire and Hertfordshire police forces have met and discussed at considerable length the current situation regarding the work to develop a full business case for the outsourcing of organisational support services through the Lincolnshire Police contract with G4S.

Their meeting enabled them to consider the findings of the review of the contract to date and assess how it could meet the complex requirements of the three forces.

The chief constables are continuing this discussion and will share their assessment with police authority members at a meeting of the Strategic Alliance Joint Working Group early next week.

Any changes to the current programme would have formally to be considered in public by each police authority.

Until the police authorities have decided how they want proceed it is not appropriate to comment further.

Tonight a G4S spokesman said the company had been: "been reliably supporting police forces for more than 20 years.

"Our policing support division is entirely separate to our global events business, which has managed the Olympics contract.

"It has its own dedicated resources with more than 1,000 staff.

"Across this part of our business, we continue to work to the high standards that our customers have come to expect and no contracts have been affected by the Olympics.

"G4S remains committed to providing efficient and high quality services to both our government and commercial customers as we have done for over 75 years."