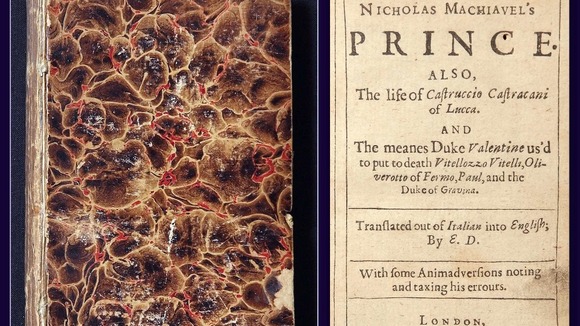 A rare first edition of an political masterpiece could fetch around £30,000 when it is auctioned in Norfolk this week.
The 372-year-old copy of The Prince by Niccolo Machiavelli was discovered beneath a pile of old books at a residential home in the county.
The 300-page-book is to be sold at Keys Fine Art Auctioneers in Aylsham, near Norwich. Andrew Bullock, Head of Books at Keys, said: "It was a rare and exciting find".
I was going through the collection of a late gentleman at the request of his family to see if any of his books would be saleable.

"The Machiavelli was on a shelf hidden amongst a number of Common Prayer books, but some sort of sixth sense asserted itself, and I took it down to take a closer look.

"This is an extremely exciting find. It is very rare for an English first edition of such an important work to come to auction, and we are expecting a lot of interest from around the world
– Andrew Bullock, Keys Fine Art Auctioneers

The book, which measures just 14.5cm by 9cm, helped revolutionise political thinking in Europe and is said to have influenced King Henry VIII.

Historian, diplomat and philosopher Machiavelli is regarded as the founder of modern political science. The Prince, his most famous work, was so influential it saw the term Machiavellian introduced into the English dictionary.

The Prince was written in 1513 but published in 1532, five years after Machiavelli's death.

The book will go under the hammer on Thursday and is estimated to fetch between £25,000 and £30,000.