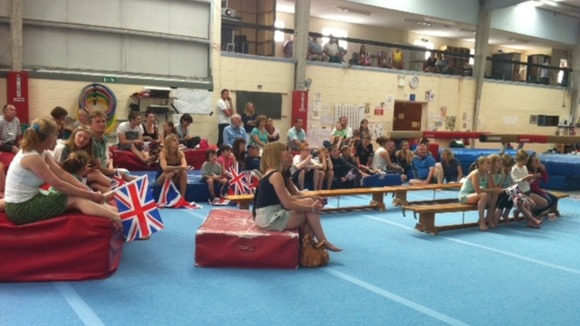 Olympic gymnast Louis Smith trains at the Huntingdon Gymnastics Club where friends and supporters have been watching him in action.
"He went to the Beijing Olympics four years ago and came away with a bronze medal - the first medal for a British male gymnast for a hundred years.

"So from there it's just absolutely swelled and grown and hopefully he can go a little bit better this year."
– Adam Scott

Huntingdon Gymnastics Club has also been hosting a Parent and Toddler Class today. The club says it's an important part of the Olympic legacy to help children get involved in sport in their local community. One of the parents.

Claire Booth, brings her daughter Grace every week. "I'm a working mum so it's lovely to spend every Saturday morning together having fun and doing lots of playing. It's no end of confidence it's given her, running and jumping - she loves it" she said.