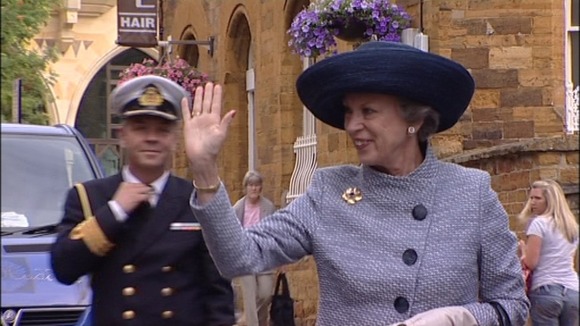 Her Royal Highness Princess Benedikte of Denmark has been visiting Northampton to mark the strong trade links between her country and the town. Her visit comes after she opened the Carlsberg brewery in Northampton - the first outside its homeland of Denmark - in 1974.
The royal visit started with a reception at Northampton Museum and Art Gallery, where the princess will view the wedding shoes worn by Queen Victoria, her great-great-grandmother.
She then moved to The Guildhall, to see the two stone murals at either side of the entrance to the building depicting the Danish invasion of Northampton in the 9th Century and the arrival of HRH Princess Alexandra of Denmark in 1863 to marry the the future King Edward VII.
Princess Benedikte also toured the Northampton Alive exhibition, showcasing all of Northampton's key regeneration projects, including the expansion of the Carlsberg UK bottling plant, before leaving for a tour of the brewery itself.
"Northampton is home to a number of Danish companies, foremost among them Carlsberg, which is increasing its investment in the town and which we hope will act as a catalyst for the growth of the Enterprise Zone. Danish businesses have a solid base here and we are keen to encourage even bolder and more significant ties with the country and its industries."
– Councillor David Mackintosh, leader of Northampton Borough Council