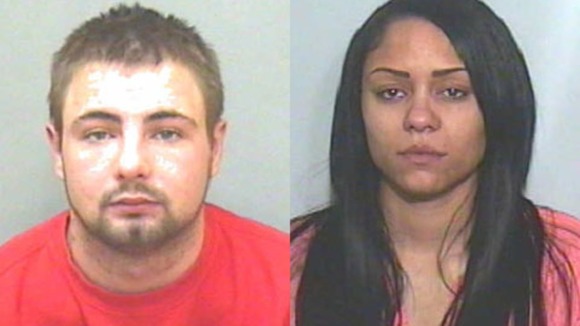 A couple face jail after being found guilty at Chelmsford Crown Court of the killing of a Clacton man on New Year's Day .
Oliver Smith-Daye was attacked on Trimley Close shortly before 4.30am and died at Colchester General Hospital later that day. A post mortem examination later showed that the 29-year-old had died from head injuries.
Charlie Jacobs, 22, and his girlfriend Elisha Francois, 21, both of Trimley Close and her mother's boyfriend, 42-year-old unemployed Alan Didier from Beckton in east London stood trial in connection with Mr Smith-Daye's death.
Following a three-week trial, Charlie Jacobs was found guilty of murder, Elisha Francois guilty of manslaughter and Alan Didier not guilty of any charge.
Oliver had spent New Year's Eve with friends, having nothing else on his mind other than to enjoy a few drinks, share some laughs and look forward to 2012.

It was his misfortune that his path should cross with Charlie Jacobs and Elisha Francois. These two individuals, both of whom had a history of violent offending, had spent the evening drinking alcohol and taking cocaine. Charlie Jacobs was, at the time, in breach of a prison licence, having only recently been released from custody.
– Senior Investigating Officer, DCI Mark Hall

DCI Mark Hall, of Essex Police said: "A trivial encounter resulted in a wholly unnecessary, ferocious and cowardly attack by these two defendants, who together viciously punched and kicked Oliver, before leaving him for dead."

The officer paid tribute to the witnesses who gave evidence in the trial, adding: "Nothing sadly can bring Oliver back, but their refusal to be intimidated and their determination to do the right thing has ensured that justice has been done."On behalf of all those involved in this investigation, I would like to pay tribute to Oliver's family. Throughout this trial they have had to face Oliver's killers and listen as they sought to place the blame on Oliver; a version of events which this jury has rejected.
We came here to seek justice and we feel that justice has been done as Charlie Jacobs and his girlfriend, Elisha Francois, have been justly found guilty of killing Oli.

Whatever the result may have been, it would never have been a victory in our eyes as we have lost a son and brother who can never be replaced and all we asked for was justice.

We have to spend the rest of our lives without Oli and we will be thinking of him and missing him every single day. 2012 has been extremely difficult for us all.

Finally, Oli can rest in peace. He was full of love, joy and happiness; a bubbly, happy, out-going young man who always put others first. No one deserves to be murdered and definitely no one deserves to have their life taken away in such an horrendous, brutal and malicious manner, depriving a family of an opportunity to say their final goodbyes.
– Smith-Daye family statement

The family said Oliver had registered as an organ donor and said the fact that he had helped to save the lives of two people and improve the lives of four others was of some comfort.
Our thanks must to Essex Police who have worked tirelessly to bring this case to trial and for keeping us updated at every step of the way.

The last seven months have been a nightmare for us all. Something unbelievable happened so suddenly.

Now we have to accept that someone we loved is no longer with us. It is hard and Oliver's last moments of life seem so tragic. Our friends and family have been of tremendous support throughout this traumatic time and Oli leaves a huge gap to fill in many people's lives.
– Smith-Daye family statement

Jacobs has been further remanded in court custody and Elisha Francois has been further remanded on court bail prior prior to their sentencing at Chelmsford Crown Court next month.