Organisers of the 139th Wayland Agricultural Show have had to call off the event, after a sewage spill on the grounds. The event at Watton in Norfolk had been ready to go ahead today, but organisers were forced to cancel it yesterday evening, when an Anglian Water Sewage pumping station was struck by lightning. The storm led to the station being offline for more than an hour, causing sewage to flood the showground at Saham Toney near Watton.
"An electrical storm in the area caused one of our pumping stations to fail on Saturday. The pumping station was offline for a little over an hour causing some flooding of dilute sewage, the majority of which was contained in ditches around the showground. This added to the general flooding and waterlogged ground caused by recent heavy rainfall, and other storms during the day. We got to the site shortly after the pumping station failed, and restarted the pumps. We then worked through the night to pump away any sewage that had escaped from the pumping station, and to clean the site.We have been on site throughout the incident to monitor the situation, and the pumping station recovered quite quickly once it had been restarted.The organisers took the decision to cancel the show, and we will continue to work with them over the coming weeks."
– Anglian Water spokesperson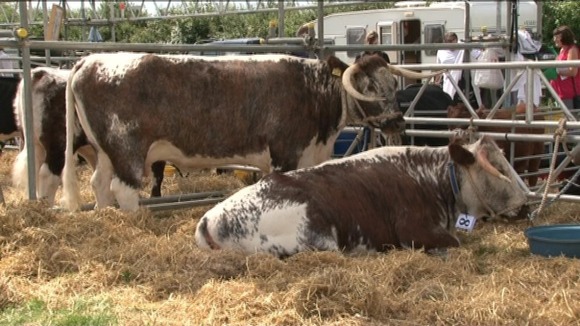 More than 12,000 visitors were expected at the show. Organisers have apologised to all those left disappointed, but they say they were left with no option, after they were advised that no member of the general public should be allowed on the showground for health and safety reasons.
It would have been the Wayland Show's 139th year - making it one of the longest UK traditional agricultural shows of its kind.
Organisers say the refund position on tickets sales will be confirmed tomorrow.
" We understand that there will be many disappointed people, visitors, exhibitors, competitors and trade stand owners. We are sorry but we hope you will understand that we have no option."
– Graham Shingfield, Show chairman