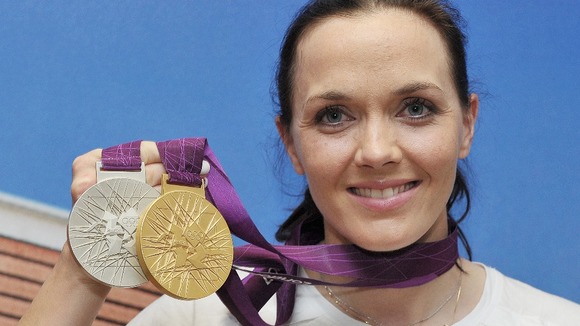 Victoria Pendleton summed up her amazing career by stating she had achieved more than she ever thought possible and was delighted to won the most difficult gold of her life.
And the nine time World Champion track star, told Anglia Tonight's Jonathan Wills, that her decision to retire was not one she would be reconsidering.
I've achieved way more than I ever thought I could. When I first got on the team I never thought I could be a world champion, so to come away with nine world titles, two Olympic golds and a silver, a Commonwealth Gold, a couple of European titles and an Olympic record isn't too bad I don't think!

People can understand I've been track racing since I was nine-years-old and I've never missed a season, so people can appreciate that I need a little bit of a break.
– Victoria Pendleton

Though the London Olympics had been the most "amazing experience of her life" she said the decision to leave the sport at the top had been the right one.

"Sport is not a pure science, you can't guarantee result at the end of it, you can train and you can train the way that has worked in the past for you but you never know if it will ever come together again for you.

"The form I had in Beijing was the form of my life and I haven't managed to get close to that form until the last month before the games. Living in the unknown, wondering if it's ever going to happen is really difficult."

But despite the setbacks and disappointments at her final Olympic games, she said her final Golden moment had been the best of her career.

"When I got on the podium and saw my family up in the crowd ahead of me, I was so proud that they were there in person to see me achieve that gold, that second gold that's been such a struggle to be honest over the last four years to achieve.

"I'll never forget that feeling, the crowd were so amazing - you can't put it into words really."
I'm feeling much more relaxed about the whole thing, it's been an emotional roller-coaster and I'm very glad it's come to an end.
– Victoria Pendleton

The Stotfold star said that even though she was stepping away from competition she would always be involved in the sport in some way, pledging to give something back to the sport which had given her so much.

And asked to reflect upon her career, she simply said: "It's been a dream come true."