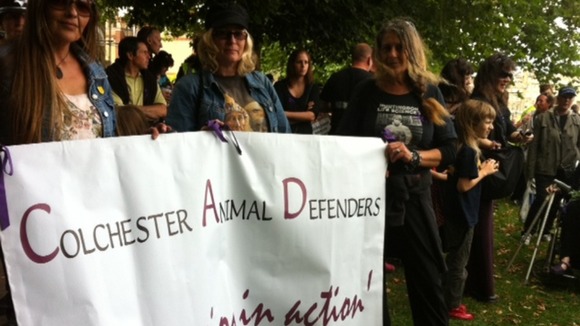 Around 200 protestors marched through Cambridge city centre this afternoon calling for the closure of a local laboratory.
The protesters want to see the end of Harlan Research Laboratories, which has a base in Wyton near Huntingdon.
The company breeds beagles for medical research and, over the years, it's attracted strong opposition.
However Harlan Laboratories told ITV Anglia that animal testing is vital for medical science and the development of life-saving treatments.
It says it take animal welfare very seriously.
We work hard to meet or exceed standards for housing, feeding, cleanliness, ventilation, and medical care of lab animals. We believe that maintaining a high standard of animal care is not only the right thing to do, it is also essential to good science."
– Spokesman, Harlan Research Laboratories