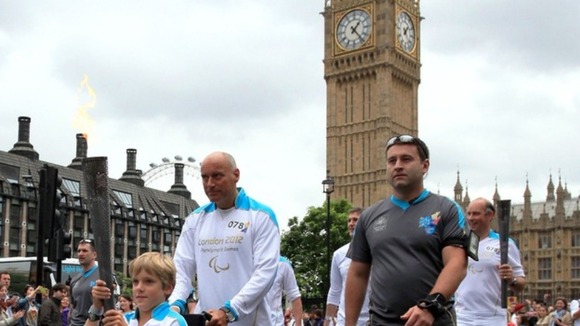 A Norwich man who founded a charity to help members of the armed forces overcome injury has been carrying the Paralympic torch through London.
Edward Parker was nominated to carry the flame by Prince Harry in recognition of co-founding the Walking With The Wounded charity, which raises money to support injured servicemen and women.
Mr Parker, 46, was joined by fellow nominees, his nephew Harry Parker, 29, who lost both his legs in Afghanistan, Captain David Wiseman, 29, who was shot while fighting the Taliban, charity co-founder Simon Daglish, 46, and his son Felix Daglish, who has cerebral palsy and uses a wheelchair.
Mr Parker said of the relay leg from Trafalgar Square to Westminster Abbey: "It was a very special thing to be able to do. I felt a bit humbled by the whole thing. It was an amazing feeling."
It was great going past Horse Guards and the Ministry of Defence. It means lot to have their support. A lot of what we are doing is about them."

Our message is that if you face your challenges with determination and courage, then you can make things possible.

What Paralympics athletes are doing is very similar to the challenges faced by the soldiers who are wounded. It takes guts, determination and positivity."
– Edward Parker

The charity has been supported by Prince Harry. The Prince is to be patron of a new charity race to the South Pole between three teams of wounded servicemen from around the world.

During the four-week Antarctic expedition the racers will trek a total of 210 miles, drag sledges - known as pulks - weighing more than 150lb (68kg) and face extreme temperatures as low as -45C, along with savage 50mph winds.

The Allied Challenge to the South Pole will combine five charities for injured servicemen and women from across the globe.

Funds raised will be shared among the host organisation Walking With the Wounded (UK), Soldiers to Summits (USA), Soldier On (Canada), Soldier On (Australia) and Wounded Warrior Trust (New Zealand).

Find out more about the Walking With The Wounded charity here.