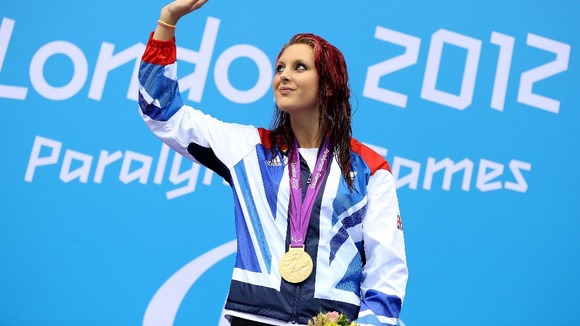 Norfolk swimmer Jessica-Jane Applegate says she was inspired to win gold in the S14 200metres freestyle by Ellie Simmons.
The 16 year old from Gorleston, who has Asperger's, is the first British athlete to win gold in the intellectually disabled classification at these Games.
Applegate, who is only just 16, said Ellie Simmons was an inspiration because she was such a lovely person to be with.
The City of Norwich club swimmer was in fourth place at the halfway stage but pulled up into third with 50m to go.
She then surged ahead in the final length, finishing her race in two minutes 12.63 seconds: a personal best and British and Paralympic record.
Applegate had an operation on her foot a month ago, but recovered in time to take part in the games.
I just tried as hard as I could just to get here. I wasn't even going to be here probably but I am.

"I was in pain. It was my last race, it didn't matter what happened after that. I just had to break through that pain barrier and make sure I could finish the race."
– Jessica-Jane Applegate

She came fourth in the final of the 100m backstroke.