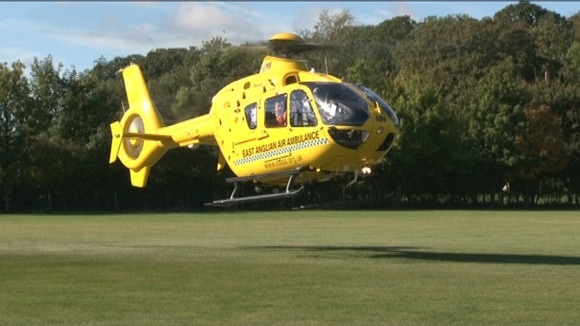 The Rufus Centre in Flitwick provided the fist stop for the East Anglian Air Ambulance's latest helicopter today.
The organisers of the fundraising day called the support 'absolutely fantastic' and they were equally pleased with the weather.
There were a few people wearing t-shirts despite a chilly start to the morning.
Flying in was the charity's new Eurocopter. The East Anglian Air Ambulance says it will be the first in the country to offer night time rescues, and it hopes to be doing so by December this year.
Crowds immediately gathered to have photographs taken and meet the pilots and doctors.
Amongst the crowd were many people who'd been saved by the EAAA.
Andy Turner from Flitwick was initially attended by the Thames Valley and Chiltern Air Ambulance when he suffered a car crash car at Wavendon near Milton Keynes in February. But the EAAA had the nearest critical care doctor: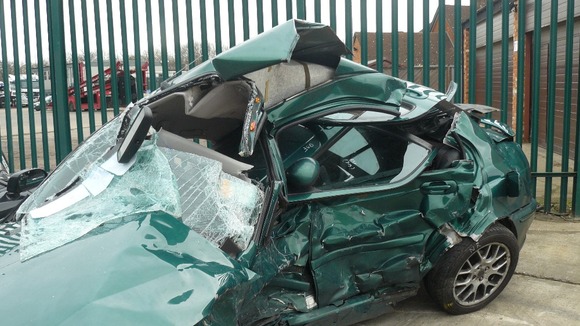 "My lung bled, I broke two ribs, fractured my pelvis in three places and ruptured my spleen.

"I now understand it was the doctor's attendance at the accident that saved me from brain damage."
– Andy Turner, injured in a road crash

21 year old Brett Anthony owes his life to the efforts of today's pilot Chris Sherriff and his colleagues.

Brett was an indoor surfing instructor at Bodyflight near Bedford and favourite to win last year's European Flowrider Championships. But a week before the event he had an accident on a zipwire.

He suffered multiple injuries and is now paralysed from the waist down. He's also awaiting a kidney transplant.
"If there was an ambulance I would have gone to the local hospital which wouldn't have had the facilities to look after me so the air ambulance let me get to Addenbrooke's and without that...it's life saving, it's life changing. It gave me a second chance.

"It gave me my ife back and my family back. It gave me back to my family, so it's absolutely amazing. You don't have words for it."
– Brett Anthony, injured in a zip wire accident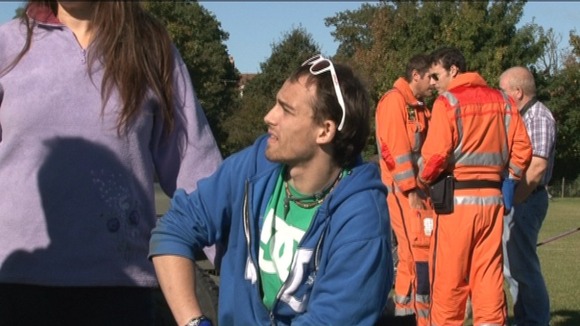 Next year Brett hopes to put on his own fundraising challenges for the EAAA.
Collectively called 'Facing Your Limits' he's organising a bike ride from Land's End to John o'Groats, a kayak along the River Great Ouse from Bedford to The Wash and a walk from the scene of his accident to Addenbrooke's Hospital in Cambridge where he was treated.
He's also been in touch with the GB adaptive rowing team, and hopes to be good enough at the sport to compete in the next paralympic games.
One of the main fundraisers at today's event was Mary Amos-Cole.
She was particularly keen to put the 'Think Bike' message across having lost her 39 year old son, Richard, in a motorbike crash in Leighton Buzzard.
Eight years on Mary is determined to raise awareness for the East Anglian Air Ambulance:
"Without their help there'd be so many more people not here today. They do a fantastic job. They just drop everything and just go"
– Mary Amos-Cole, mother of a motorbike crash victim

The helicopter left Flitwick just after midday, to attend other events in Peterborough, and Milton near Cambridge.