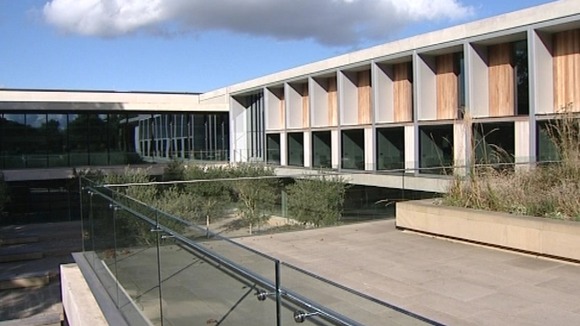 A new plant science lab in Cambridge has beaten the Olympic Stadium to win the UK's most coveted architecture prize.
The 82 million pound Sainsbury Laboratory beat five other buildings to take the Royal Institute of British Architects' Stirling Prize.
The judges described the laboratory as a timeless piece of architecture, a university building "taken to an extraordinary degree of sophistication and beauty".
The Sainsbury Laboratory is an exceptional building that achieves at many levels - in blending a world-class science facility with a public social space in a highly energy efficient building.

'It is testament to the skill, experience and imagination of Stanton Williams architects that they have found a creative solution to this complex project.'
– Angela Brady, Riba President

Announcing their shortlist just before the Games started in July, judges described the Olympic Stadium in Stratford, east London, as having "a spirit of fun".

The Stirling Prize is in its 17th year and celebrates the best of new British architecture.

The judging panel was led by Sir Nicholas Grimshaw, the architect and former president of the Royal Academy; Sir Mark Jones - master of St Cross College Oxford and former director of the Victoria and Albert Museum; architects Joanna van Heyningen and Hilde Daem; and the designer, writer and broadcaster Naomi Cleaver.
The Sainsbury Laboratory is a timeless piece of architecture, sitting within a highly sensitive site, one overlooking the woods where Darwin walked with his tutor and mentor (John Stevens) Henslow, discussing the origin of species.

"The project is both highly particular and specialised, and at the same time a universal building type, taken to an extraordinary degree of sophistication and beauty."
– Sterling Prize judges

Funded by Lord Sainsbury's Gatsby Foundation charity, the centre that bears his name is part of the University of Cambridge. It was praised for its energy efficiency and green approach. Rainwater is collected from the roof and stored in two huge tanks which irrigate the garden's glasshouse and plant chambers.

Lord Sainsbury said tonight that he was "very proud" to be associated with the inspiring building.