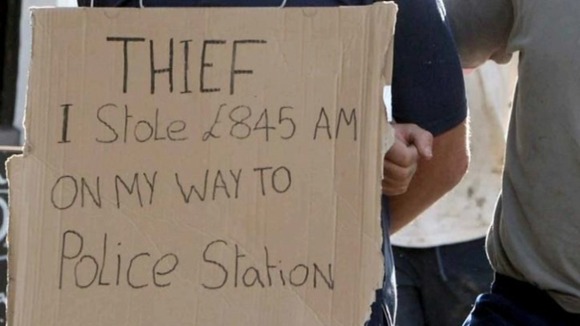 A boss who paraded an employee through the streets of Witham with a sign declaring him to be a thief, is facing financial ruin.
Simon Cremer hit the headlines in 2008 when he forced his former employee to wear the sign stating "I am a thief I stole £845 and am on the way to Police station"
But now the flooring company owner says that decision might cost him everything.
Mr Cremer was taken to court and acquitted of false imprisonment. A civil case brought by the former employee for personal injury saw Mr Cremer ordered to pay £5,000 compensation plus costs - and it's the costs which Mr Cremer says are pushing him to the edge of bankruptcy.
It's cost me an awful lot. It was a spur of the moment decision, albeit a wrong one, I can see that now, but would I do the same again if I caught someone lying, cheating, stealing from me, I don't know, I think a lot of people probably would have done worse.

At the end of the day I took him to the police station, yes I humiliated him on the way, I took him there to get his justice, to me that hasn't been done, and I'm the one who's being punished.
– Simon Cremer

The costs from the civil case were originally £38,000 but were reduced to £29,000 on appeal, but while the costs were in dispute, interest was adding up at an average of £217 a month.

Now a court order has finalised the agreement, the total amount Simon Cremer now owes, costs and compensation, is around £45,000.

In a statement Ellisons Solicitors acting on behalf of the claimant said:

"The court assessed the costs in November 2011 and a court order was made for a final figure that was decided by the Court... The monies owed by Mr Cremer to our client are a result of court orders and not the decision of Ellisons."

Simon Cremer now says he will have to declare himself and his business bankrupt to pay the costs.