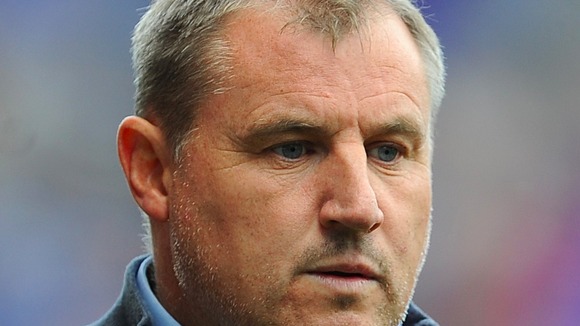 Ipswich Town manager Paul Jewell has left Portman Road by "mutual consent" after Tuesday night's defeat to Derby County.
Jewell, who has been in charge at Portman Road since January 2011, finalised matters with Club owner Marcus Evans and chief executive Simon Clegg this morning and all parties agreed that he should leave his post as manager.
In statement on the Ipswich Town website, Paul Jewell said: "I could not have had any more support than I have done from Marcus Evans and Simon Clegg I have enjoyed working with both of them in my time as Ipswich Town manager. We all know that football is a results business though and I've never hidden from the fact that our results have not been good enough."
"Since he first walked through the door here, no one has worked harder to bring success to this Football Club than Paul Jewell. Unfortunately his outstanding commitment has not been rewarded by results on the pitch and having spoken with Paul at length, we feel it's best for him and the Club if we go our separate ways."
– Marcus Evans, owner of Ipswich Town Football Club

Ipswich Town assistant boss Chris Hutchings will take over as caretaker manager.

After Tuesday night's match Chris Hutchings dismissed rumours that Paul Jewell had left the club after the defeat which sent them bottom of the Championship.

Jewell did not take post match media interviews following the 2-1 home loss to Derby County. Rumours were then rife - particularly on Twitter - about him resigning.

But Hutchings, who faced the press afterwards, said that Jewell had not left, and was reviewing the match DVD. He would be preparing for the game with Sheffield Wednesday on Saturday.

"We're working so hard to put things right", said Hutchings.
"I don't see any reason why he [Paul Jewell] shouldn't continue. We were very, very disappointed. He was very disappointed on Saturday. He wears his heart on his sleeve, as everyone knows. There's no grey areas with him, he's very passionate about the game and this football club and he wants to succeed."
– Chris Hutchings, Assistant Manager, Ipswich Town Football Club

Jewell watched his team take the lead for the fifth game in succession. DJ Campbell was credited with the goal midway through the first half. But mistakes from defender Danny Higginbottom and goalkeeper Stephen Henderson led to Derby's equaliser from Theo Robinson. Nathan Tyson scrambled in Derby's winner in second half stoppage time, prompting fans to chant 'You're getting sacked in the morning' at the final whistle.

"We're working extremely hard. It affects confidence but we've got to bounce back", Hutchings added.

"We've got another game on Saturday, another tough one. Every game's tough. and that's the way we're looking at it. It's very disappointing because we're losing so many points in the 90th, 91st, 92nd minute.

'Its very frustrating because the players have made so many mistakes in games in recent weeks. Its vital we stop making these errors, to keep clean sheets and work from there.

"No one likes to be bottom of the table but there's only one way from here and that's up.

"When we take the lead we've got to make sure that we're more professional, that we concentrate more, Derby's first goal tonight was through two mistakes. If you make one mistake, you expect someone to get you out of trouble. If you make two mistakes it normally ends up as a goal and that's what happened."