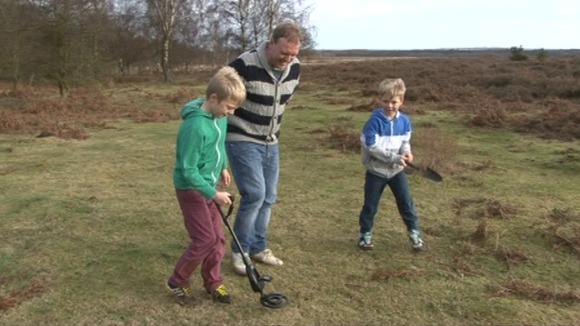 A bomb disposal unit from RAF Wittering was called to a family home in Norfolk over Christmas when a present unearthed an unexploded device.
Seven year old Sonny Carter from King's Lynn was using his new metal detector when he made the discovery.
Sonny was testing out his new toy on Roydon Common near King's Lynn with dad Jem and brother Marley when it started bleeping.
"I was jealous, I was thinking he had found something really expensive, worth £100."

"When you found out it was a bomb how did you feel then?"

"Scared, I thought our house was going to blow up"
– Marley Carter, Sonny's brother

In the ancient surroundings of this nature reserve it could have been any number of items.
"We didn't know what it was, it was caked in mud and very heavy. So we took it home and washed it off and very soon realised it was a warhead. which was a bit of a surprise to say the least. next thing we know is the police are there and we're sitting tight waiting for the bomb disposal unit"
– Jem Carter, Sonny's dad

When a bomb disposal unit from RAF Wittering arrived they discovered it was a 10lb practice bomb from World War Two which, fortunately, had no explosives in it.

Nevertheless, that debut discovery has certainly set the bar high for future expeditions. Who knows what they'll find next.