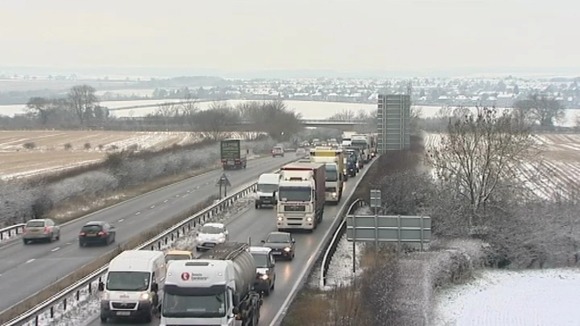 Snow hit parts of England today with up to 4in (10cm) expected to fall in Lincolnshire, Yorkshire and East Anglia, while central England will widely see up to 2in (5cm) with temperatures hovering around 1C (33.8F).
The first wave of snow dusted eastern England, with a second heavier band expected to move south and east across the country later.
The Met Office has upgraded its "cold weather action" warning to level three - one underneath a national emergency - for all of England, urging social and healthcare services to target specific actions at high-risk groups.
Matt Dobson, senior forecaster for MeteoGroup, the weather division of the Press Association, said:
"We have two bands of snow to worry about today. The first is over south east England and East Anglia this morning but it is coming down quite slowly and it's light.

"There is another band of rain, sleet and snow, moving out of eastern Scotland across north west England and Wales and moving south east all the time.

"If you draw a line from Manchester to London, south and west of the line there will be mainly rain and sleet. North and east of that line it will fall mainly as sleet and snow.

"Yorkshire, Lincolnshire and East Anglia, they are going to get the worst."
– Matt Dobson, MeteoGroup