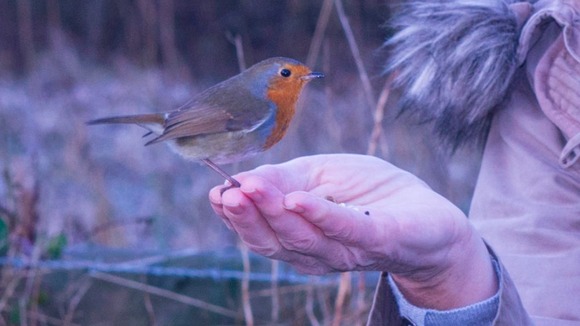 Feeding wild birds throughout winter is vital, but one Norfolk wildlife reserve owner has taken it one step further – by hand-feeding a tiny robin.
Deb Jordan, co-owner of Pensthorpe Wildlife & Gardens near Fakenham, first noticed the same robin appearing on her daily morning walks around the Reserve last October and has since developed a unique bond with the bird.
After 'speaking' to each other for several months, the Robin began feeding from Deb's hand.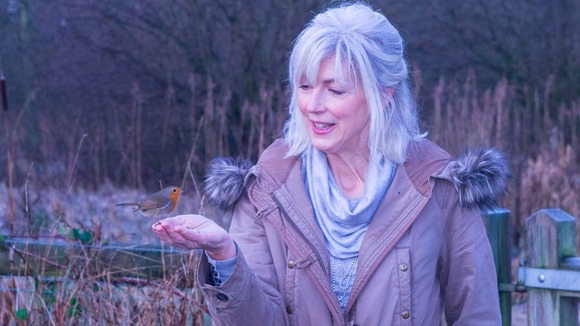 "This interaction is particularly special as it has taken me months to win his trust over. Sometimes he will hover above my head until I can get the food from my pocket and put my hand out for him to perch. We pay close attention to all our birds throughout the year, but this just goes to show how much they rely on us throughout the harsh winter months."
– Deb Jordan, Pensthorpe Wildlife & Gardens

The reserve is reminding people of the need to feed and look after wild birds as snow and ice can hide traditional food sources.

This is their advice:
It's important to feed the correct food to not only encourage a greater variety of birds into your garden but also because they are adapted to feed on different food sources. Expect to see chaffinches, goldfinches, blue and great tit enjoying seeds but also grated cheese, uncooked porridge, with the blackbirds even enjoying windfall apples. Finches, sparrows and nuthatches all appreciate small seeds and peanuts with the goldfinch coming in particularly for Nyjer seed.
It is essential to remember hygiene when dealing with birds, as the bird feeders and baths spread viruses and disease easily amongst birds. Their food needs to be kept fresh and give them clean, fresh water daily.
This time of year is timely for people to clean their bird feeders thoroughly with detergent as there are still plenty of insects, berries and seeds about in the wild. And this way, the birds really benefit from being fed during the harsh cold winters.
A source of fresh unfrozen water for bathing and drinking is just as essential in winter as it is in the summer. It is really important that it is changed regularly and is kept free of ice.