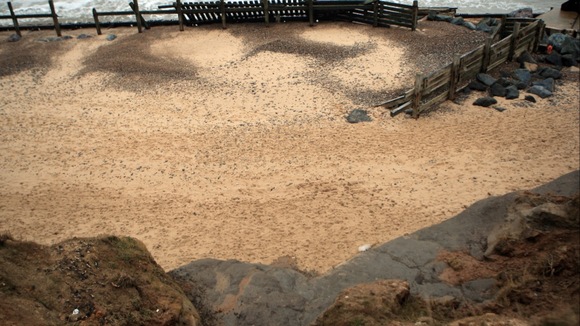 More than £19 million has been set aside for a major coastal defence and regeneration project along the Clacton and Holland coastline. The money, is being set aside by a number of partners.
Nick Turner, Tendring District Council's (TDC) Cabinet Member for Environment and Coast Protection, said it is fantastic news and gives the initiative real momentum.
"The £19.212 million is a headline figure and is indicative of the EnvironmentAgency's intentions to allocate funds for the first phase of our proposals," he told ameeting of TDC's Full Council last night.

"The figure is made up of all monies from various sources.

"The Flood Coastal Erosion Management Grant in Aid has reserved £450,000 for2013/14 and indicated that a further three slices will be available for the followingthree years amounting to £10.762 million."
– Nick Turner, Tendring District Council

There is also at least £3 million committed by TDC and the same amount from Essex County Council (ECC) along with other contributions. Last week a Growth Fund Award of £512,000 was announced in Parliament.
"Schemes such as this, once they get going, tend to come alive and grow.

"This scheme is gaining critical mass. It is all we can hope for and work towards.

"I do know that the contribution from this Council, together with that from ECC havebeen vital in unlocking indicative funds from the Environment Agency and we doexpect other bodies to also contribute towards this project.

"Who would have thought two weeks ago, when TDC's Cabinet received a progressreport on the scheme, that we would have had our amber light tinged with this muchgreen.

"If this project goes ahead it will be the second largest coast protection scheme inthe UK. It will offer a template for the 21st century seaside to develop and establishitself.

"We will be able to maintain what our ancestors left us and at the same time allowthe future to grow. We are not there yet, but boy oh boy; it looks a little better eachday!"
– Nick Turner, Tendring District Council

Five options for the coastal defences have been drawn up by consultants Mott McDonald and have been out to public consultation for vital feedback.

So far 112 responses and been received with more to follow from those who want to have their say on the proposals.

These will be evaluated and will be included in a Project Appraisal Report due to be submitted to the Environment Agency's Large Project Review Group in May, with a decision expected in late summer, early autumn.

Cllr Turner said that if the necessary approvals and funding are all in place work on the project, which is expected to cost up to £27 million, could start in the early weeks of 2015.